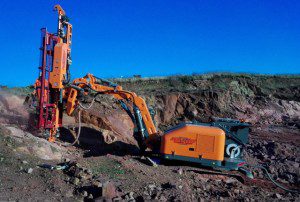 GROUND engineering and rock drilling specialist, Skelair International, has seen the most recent addition to the fleet, the Baby Giraffa, complete its first commission, rendering the rig fully operational in the UK.
Manufactured by Marini and first showcased at Geofluid 2014, this is the first commission of the rig since its introduction to the Skelair Rental Fleet.
As the newest member of the rental fleet, the Baby Giraffa has already earned its place on a first assignment for the company's Contract Drilling and Blasting Division. Playing on the rig's strengths of being highly flexible and lightweight, once set-up in DTH drilling mode, the Baby Giraffa was tasked with drilling 100mm holes from 3m to 6m deep in an area where the access was limited.
Steve Lashley, Skelair's Drilling and Blasting Operations Manager, said, "The ability of the Baby Giraffa to drill in areas that a normal production rig couldn't reach made it possible to blast in an area of the quarry where ordinarily other machines couldn't get to. I'm looking forward to seeing what other difficult tasks it can undertake and testing the machine to its full capabilities."
Skelair has an established rental programme which already provides access to market leading tracked drilling rigs and excavator mounted drill masts from Klemm, McDrill, Marini and T.E.I – all supplied with UK specification drill guards.
Underpinning access to this range of equipment is a well-developed service solution, which includes a comprehensive pre and post hire inspection as well as delivery to site should it be required.
John Mayo, Managing Director, Skelair, said, "As a company it's important that we are able to respond to our clients' needs with the right equipment exactly when they need it. We're lucky to own one of only two Marini Baby Giraffa's in the UK and have received many enquiries since its launch at Geofluid 2014. Having specialist, top of the range equipment once again proves that Skelair is setting the pace for providing a first-rate rental service in the UK."