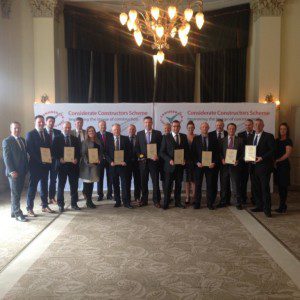 Robertson is celebrating after taking home an impressive eight awards at the Considerate Constructors Scheme (CCS) National Site Awards.
All of the eight Robertson sites shortlisted received an award: four bronze, three silver and one gold.  The Group's Harris Academy project surpassed expectations by achieving the gold award in its first ever win from the CCS.
As well as engaging with local school, college and university students, Harris Academy's site team hosted an open day, community group visits and a charity barbecue. The project was also named runner-up for the Most Considerate Site prize.  Harris Academy's CCS monitor had stated it was one of the best sites he had ever visited with first-class presentation.
The awards are open to all sites registered with the scheme, which aims to improve standards within the industry. The projects were scored against five different criteria: community, appearance, environment, workforce and safety. Robertson has been registering its sites with CCS for more than seven years.
Gemma Nicoll, Group Community Development Manager at Robertson Construction Group, said, "Having so many of our projects recognised in these coveted awards, competing with thousands of other sites across the country, is a fantastic achievement. All of our project teams interact enthusiastically with the community; teaching everyone from primary school pupils to local residents about the work we do."
Derek Shewan, Chief Operating Officer for Robertson Group, said, "At Robertson, we pride ourselves on bringing lasting benefits to our projects' neighbours by working closely and meaningfully with local communities. We are tremendously proud of our results at the Considerate Constructors Scheme awards, which demonstrate we have built and maintained a positive image both with the public and the industry."