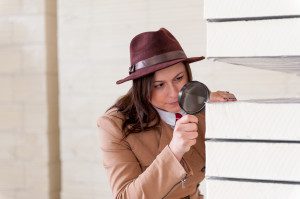 IN an uncertain world awash with regulation, safety data sheets and large fines for non-compliance,  one company is set to unveil its latest and greatest weapon in the battle against unregulated construction products.
As part of its SIG Assured scheme, a set of quality guarantees , compliance and legislation monitoring designed to provide customers with complete peace of mind when buying products from the company, SIG Distribution (SIG) is utilising a super sleuth trained in the art of stealthy stock takes and compliance crosschecking.
Emma Dixon-Child, a key member of the SIG Assured Team, will be on the front line of customer protection after undertaking the position of Construction Industry Detective (or CID).
In the newly created CID role, Emma will be responsible for stringently investigating manufacturers' claims into areas like product provenance and ensuring that all relevant legislation is adhered to – ensuring SIG's customers – and indeed, their customers – only ever receive fully approved products, providing a supply chain that can prove provenance throughout.
The culmination of three years of collaboration with suppliers to ensure its stocked products meet all essential regulatory compliance, having Emma play a lead role in SIG Assured means that SIG is able to supply compliance documents and Safety Data Sheets at a moments' request, all of which have been independently verified to ensure validity.
Speaking of the new role, Emma said:  "I've always had a strong eye for detail and strongly believe in the values that the SIG Assured guarantee stands for, so this role is perfect for me. Our customers can sleep soundly, safe in the knowledge that they have someone on the inside fighting the good fight and making sure their doors are never darkened by unsafe, unregulated and inappropriate products."
Given the fast pace of changing legislation and product development, a large part of Emma's detective duties will be to uphold robust processes to track and monitor which companies and products  are compliant.
As part of this, Emma and her team will routinely update and publish an on-line storage resource, offering the latest compliance and legal information about the suppliers that SIG works with.
Emma added,  "We felt that those companies that have undergone a thorough cross examination deserve to have their results shared with the world. We pride ourselves on our detective skills, and hope our partners will be equally proud to have passed the SIG Assured test."