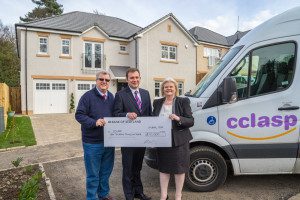 A fundraising effort by kind-hearted employees at Miller Homes in Scotland has seen them raise £10K in just one evening for Children with Cancer and Leukaemia, Advice and Support for Parents (CCLASP).
The money was raised during a recent event at The Sheraton in Edinburgh that was attended by over 350 guests including employees and suppliers.
The evening featured a fantastic raffle with over 45 prizes, comprising spa days; champagne dinners; golf events; football games; family activities; hotel stays and a Samsung 40 inch widescreen LCD TV.
Stewart Lynes, Managing Director of Miller Homes Scotland, said, "As a business, it is very important to us that we support the communities in which we operate and where we build new homes. We selected CCLASP because of the outstanding work it does supporting more than 500 families in Scotland and the services it provides including transport to hospitals, holidays or a special wish from a child.
"The aim was to raise as much money as we could for CCLASP and have a fun evening at the same time. We achieved that and are very grateful to our employees, contractors and suppliers for their generous contribution."
Established in 1994, CCLASP is an Edinburgh based children's charity that helps support children and families to express and share their feelings, anxieties and experiences amid the trauma of having a child with a life threatening illness.
Willie McEwan, Trustee of CCLASP, commented, "Working with Miller Homes has been an absolute pleasure, and we are delighted that they have managed to raise such an astonishing sum from this event.  As a charity we rely very much on donations to support the work we do and this contribution will make a huge difference, it will enable us to continue and enhance all the services we offer our families and children to support them through their most difficult times."