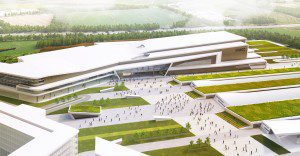 KEPPIE Design has been appointed as architect for the new state-of-the-art Aberdeen Exhibition and Conference Centre (AECC).
Aberdeen City Council has recently approved the financial proposals for the development of the new AECC as well as the redevelopment of the site of the existing conference centre.  Councillors backed the £333m project – a joint venture between the Council and Henry Boot Developments – at a full council meeting recently.
Keppie Design Ltd has been selected by Henry Boot Developments as part of the multi-disciplinary team which will deliver the proposed new conference centre at Bucksburn, next to the Rowett Institute, and redevelop the Bridge of Don site which will be vacated once the existing AECC closes.
The new conference centre will form part of the wider development of the Rowett North Masterplan, just south of Aberdeen International Airport. The masterplan also includes three hotels, an energy centre, an estimated 60,000 square metres of office space and 6,000 square metres of leisure space and open space, parkland, public realm, access routes and car and coach parking.
Richard MacDonald, director at Keppie, said, "Keppie is thrilled to be architect for this unique project and I look forward to realising the vision of creating a world class facility for Aberdeen."
Nick Harris, Henry Boot's Scottish director, added,  "The new AECC facility is a vital element of Aberdeen's future growth and development, not least as a World Energy City and the Energy Capital of Europe.  Therefore, the new conference centre and associated facilities will be developed with the ambition to make it the most sustainable facility of its kind in the UK.
"That is, of course, a tall order but one that we are confident we can meet – especially in conjunction with the project team that we have assembled here. It's vital that creativity and sustainability are key drivers in the project so that the end product will leave a lasting legacy for the city, its residents and the hundreds of thousands of visitors who frequent it each year for both business and leisure."