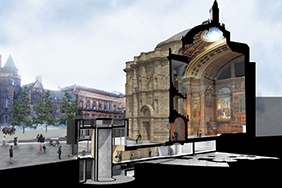 INTERSERVE is to renovate the University of Edinburgh's historic McEwan Hall.
The £19.1 million project, designed by LDN and Buro Happold, is due for completion in 2017 and will see the Listed building restored to its former glory by the end of a careful conservation process.
The renovation of McEwan Hall, which is located at the heart of the University of Edinburgh's city centre campus, will include both external and internal works. A new glass entrance pavilion with associated landscaping will improve accessibility across Bristo Square and into McEwan Hall. Internal renovation works include ceiling repairs, new service installations and the extension of the basement.
Interserve will also be required to take particular care to protect a music organ, which will remain in place throughout the works.
In addition to McEwan Hall, Interserve is currently working on numerous construction and property development projects in and around Edinburgh, including the £200 million Haymarket city centre development. Interserve is also redeveloping and restoring parts of the Grade II listed Co-op building in Newcastle city centre, to create a mixed-use retail and leisure scheme, which is due for completion by the end of 2015.