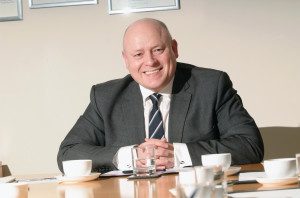 ALLAN Callaghan is an extremely busy man. Since 2005 he's been Managing Director of Cruden Building & Renewals, a construction firm with operations across the West of Scotland. He's now set to combine this role with the MD position at Cruden Estates, one of the Cruden Group's development companies.
One of Scotland's largest independently owned development and construction groups, Cruden has been delivering projects since 1943 having initially been founded to repair war damaged homes.
With more than 600 employees across three offices, and an annual turnover in excess of £150 million, the Group's ability to adapt to new trends and innovations has been key to sustainable growth.
Allan explained, "We operate across Scotland in the West as Cruden Building & Renewals and Cruden Estates Limited, selling as Cruden Homes (West) Limited. In the East we operate as Hart Builders and Cruden Homes (East) Limited.
"We build and develop public and private sector housing, supported and care related housing and homes ranging from sheltered accommodation through dementia care homes to retirement and residential homes. We have also developed student accommodation and a range of commercial property developments."
Almost two thirds of the Cruden Group's employees are based in the West. Most have been with the firm long-term, including many who started out as apprentices. Allan added, "Good staff is key for us and we focus on promotion from within. We have a strong apprentice program – usually 50+ apprentices at any one time. We believe in lifelong learning and make sure we are upskilling our staff all the time. We try to set out a career path.
"We've had apprentices who have gone on to become site and contract managers while one guy who started as a joiner worked his way up to Commercial Director."
Allan, a former quantity surveyor, joined the Group 20 years ago after being attracted by the company ethos. A proportion of profits are distributed each year to Scottish charities through the Cruden Foundation. And for each project they take on, a budget is set aside to benefit the local community – a policy which led to the fitting of a plasma television so that residents of an East Kilbride retirement home could watch the 2010 World Cup in style!
The most memorable project Allan has been involved in was the Athletes' Village for the Commonwealth Games last year. He explained, "I'm from Dennistoun in the east end of Glasgow, so the transformation of the nearby Dalmarnock area was special for me. We created 93 apprenticeships and played a major role as a member of the City Legacy Consortium and as a builder in our own right. The most challenging aspect was the development of the sustainability specification for the Village to lead the industry in the delivery of affordable carbon neutral homes years before this became a hot topic."
Allan's big hope for the future is "continued organic sustainable growth". "The biggest danger to the industry is a return to 'boom and bust'. If you get sudden, rapid expansion you encounter problems with skills shortages and overheating," he warned.
The Group was insulated to a degree during the recession by long-term projects and emerged financially very strong and with its workforce intact.
One thing which frustrates Allan about the industry at the moment is the difficulty it has representing itself with a  "single voice".
"We are builders, developers, property and asset managers all with individual agendas," he said. "It's cut-throat, we all need to unite. The frustration is sometimes political expediency on all sides looking at the political impact of housing and non-development against spend in other more immediate areas. We have an opportunity to build the housing infrastructure we need going forward and we hear of plans to build tens of thousands of new homes with no cohesive plans to deliver."
Overall though, Allan is positive about the sector and believes construction remains a "fantastic career" for youngsters to consider.
"We hear a lot of negatives from people who don't work in the industry," Allan added. "People talk about the weather and conditions. But most of the guys in the industry are really good at what they do and there is a genuine opportunity to advance. There are career path-based opportunities which you don't get anywhere else. There are roles for everyone, irrespective of background, race or sex and this is something we actively seek to promote in Cruden."