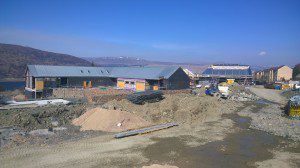 GRAHAM Construction has helped to lay the foundations for careers in the construction industry for local young people, through their supply chain of sub-contractors on the new Fort William Primary School project.
The company is currently on site creating an 11 classroom school building with community facilities at Lundavra Road, to replace the existing Fort William and Upper Achintore Primary Schools.
GRAHAM's sub-contractors have recruited two local apprentices, Jake Kennedy and Euan Campbell both 21, who have joined the site team as apprentice scaffolders.
The two young men have been enrolled in the Cuplock Course at the CITB College, gaining the necessary skills and knowledge to safely assemble, dismantle and inspect cuplock scaffold systems. Both apprentices have the opportunity to put their knowledge into practice, working and learning alongside skilled tradesmen from GRAHAM and its sub-contractors.
In addition to these apprenticeships, GRAHAM and its sub-contractors also partnered with local employment support agency The Shirlie Project, West Highland College and Lochaber High School to provide work placements for young people who want to get involved in the construction industry.
Graham Wemyss, Project Manager at GRAHAM Construction, said, "The work placements have been of a great standard at the site and we are pleased to have been able to offer further opportunities to a number of candidates on placement."
John Wallace, 18, from Fort William, completed a work placement and is now working full time as a trainee roofer with sub-contractor NDM, while James Atchison, a trainee scaffolder with local company, Intrabiz at the site in Fort William has been awarded an apprenticeship, which will commence in September 2015.
Together with the Construction Industry Training Board (CITB), GRAHAM has visited local schools and colleges, providing hands-on curriculum support activities, as well as sponsoring the Tower Building Project. Pupils were able to get to grips with construction simulation projects, encouraging team work, good planning and decision making skills. Pupils at Lochaber High School have also been given the opportunity to apply for a week's placement on site.
Since the project began, GRAHAM and its sub-contractors have created 16 new jobs in the area and have offered supervisor and leadership training to all site members looking to progress their careers.
Graham Wemyss added, "The schools project in Fort William offers young apprentices and placement students an ideal platform to experience the broad set of technical skills required to deliver a high quality teaching and learning space for the 21st Century. We endeavour to work with young people at every site, offering work experience, apprenticeships and training to give them the necessary tools to build a career in construction.
"Not only do we want to introduce young people into the industry, but providing training for site members also enables us to upskill our employees and sub-contractors, creating a better workforce for this project, and all the projects that follow."
The new school on Lundavra Road is part of the Highland Council's programme of investment to provide three new modern schools in the Highlands and Fort William.