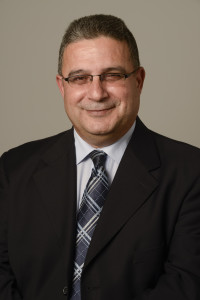 GLASGOW Caledonian University (GCU) has appointed Professor Ghassan Aouad, the President of the Chartered Institute of Building, and Mohammed Dulaimi, Professor of Project Management and Innovation at The British University in Dubai, as Visiting Professors to enhance the University's activities and expertise in construction.
The appointments were made by Ian Gracie, Chair of CIOB Scotland and a member of the Court of GCU, at the Scotland CIOB Annual Dinner on Friday April 24th.
The Chartered Institute of Building (CIOB) is the largest professional body for construction management and leadership, with a Royal Charter to promote the science and practice of building and construction for the benefit of society.
Professor Dulaimi is a senior academic and industrialist with extensive experience in construction management and project management research. Having spent more than 25 years in academia working in universities in the UK, Singapore and UAE, he was the founding Head of the Institute of Engineering at the British University in Dubai in 2004.
Professor Aouad, President of Applied Science University in Bahrain, is the first CIOB President from the Middle East. Born in Lebanon he studied Civil Engineering at Beirut Arab University.
Professor Ghassan Aouad said, "Glasgow Caledonian University has a rich history and is known worldwide as a great modern institution for learning and research. It is an honour for me to be appointed as a Visiting Professor at GCU and I am really proud to be part of its future and excited to bring the latest construction thinking and knowledge to its students and colleagues in the built environment.
"Scotland has and continues to produce many great builders and construction managers and I look forward to being part of Glasgow's next generation to follow in their footsteps."
GCU has a significant portfolio of projects in Building Surveying, Construction Management, Quantity Surveying, Construction Economics, Construction Management and International Project Management, accredited by the CIOB.