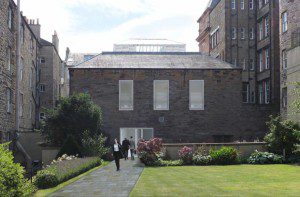 ONE of Scotland's best known fit-out experts has landed a £1.5 million contract to regenerate a drab and dated building, turning it into one of Edinburgh's hottest new venues.
A series of previous successful projects completed by Thomas Johnstone Ltd helped secure the 147-year-old firm its latest high-profile contract, with the Royal College of Surgeons of Edinburgh.
The firm says winning the high-profile contract coincided with an upturn of fortunes in the sector and its team are now converting the former language school building into a three-storey events hub.
The Royal College of Surgeons of Edinburgh Commercial Enterprises specialises in making the most of the institution's impressive buildings, with profits invested back into running the organisation. Its new events venue is due to open in May and will be its fourth hosting events and conferences.
Thomas Johnstone's track record with clients including Gleneagles Hotel and the Sheraton Group helped it win the contract. The firm, which was founded in 1868 and employs 170 people, with its HQ in Glasgow and offices in Edinburgh, has appointed site agent Peter Weir, 32, to lead the project. The dad-of-two from Hamilton said, "This is a very interesting project for TJL and we're delighted to be involved with the Royal College of Surgeons of Edinburgh. TJL work across a broad range of sectors but we are well known for our hotel refurbishments and because this is an events space it is very similar to a hotel project, without the bedrooms.
"Certainly the sector has been a lot more buoyant since September of last year, with confidence returning and clients willing to release funds for investment, which is good news all round. Projects like this aren't just good for Thomas Johnstone Ltd, they are extremely welcome to our family of trusted sub-contractors across Scotland."
The scale of the project has involved more than 30 people on site every day and included a complete strip out of the existing building, including removal of load-bearing walls. Major construction work was needed to create three large new windows and a new entrance in the centuries old stone walls looking onto the secluded courtyard area.
Restoration experts Fergmann Window Solutions, from East Dunbartonshire, were brought in to repair a badly deteriorated cupola, which is now a centrepiece of the building. Edinburgh's City Crafts has been carrying out repairs on historic cornicing and the capital's George Nicolson decorators will complete the transformation.
Elsewhere Brookfield Group Ltd, from Paisley, carried out all electrical and data cabling, including the installation of state-of-the-art audio visual facilities, while Glasgow-based James Frew Ltd handled M&E aspects, including kitchen services, ventilation, and plumbing.
Mr Weir added, "Once it is completed it will be completely unrecognisable. The first floor used to look like an old-fashioned school, like Grange Hill from TV in the 1980s. It was a bit dingy with very little light due to the lack of windows and the poor layout. When it reopens that space will have been transformed into a light and airy, open plan event space, with new windows, a restored cupola and a new, bespoke bar and reception. It will look pretty special."