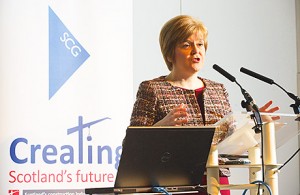 THE proposal for a new law to tackle fair payment contained in the SNP's manifesto has been welcomed by the Federation of Master Builders (FMB).

Gordon Nelson, Director of FMB Scotland said, "The construction industry contributes more than £10bn to Scotland's economy and employs over 170,000 people, so the health of this industry is crucial to Scotland's overall prosperity. 98% of businesses in the Scottish construction sector are small and medium-sized enterprises (SMEs) and one of the greatest struggles these firms face is the unfair payment practices perpetuated by some clients and larger contractors.
"Placing prompt payment terms into law could help protect small businesses from predatory practices and also help encourage more of them to engage in public sector procurement.
"In terms of housing, most people know that we are not building anywhere near enough homes in Scotland and it's good to see that the SNP manifesto recognises this. Their commitment to increasing capital investment in housing is welcome but if we are to achieve the level of house building required, barriers to SME house builders must be removed. If we carry on as we are, the under supply of new housing will pose a real threat to Scotland's future social and economic well-being.

"Finally, we welcome the SNP's announcement of a more targeted approach to business taxation. However, we would like to have seen the SNP echo the commitment of the Green Party in pledging to cut VAT on housing renovation and repair to 5%, a policy the SNP has previously shown support for. Research by Experian has demonstrated that a VAT cut from 20% to 5% could lead to 2,400 construction jobs in Scotland and an additional 2,000 jobs in the wider Scottish economy in 2015. This was a missed opportunity to back jobs and growth."