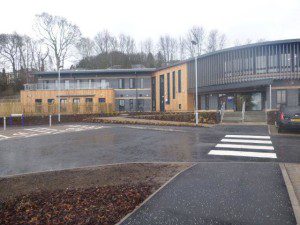 WITH the issue of child and adolescent mental healthcare very much in the headlines these days, the completion of NHS Tayside's new CAHMS care unit comes at a fitting time.
Designed and built by BAM Construction Scotland in the grounds of Dudhope House in Dundee and surrounded by parkland and gardens, the new £5m facility will provide round the clock care for young people coping with mental health conditions.
The bright and welcoming building, which took as long to plan and design as to build due to the requirement to not only consider the current complex needs of the users but also be able to adapt and respond to changing needs, is the result of a collective team approach between NHS Tayside, East Central Scotland Hubco, BAM Construction Scotland and Architect, Gauldie, Wright and Partners.
Built on a sloping site and into the hillside, the building wraps around a landscaped courtyard which connects the 'home' to its surrounding natural habitat. Moving inside the modern and flexible building maximises the use of natural light throughout. An education wing on the ground floor sits alongside a multi-purpose gym, therapy kitchen, breakout areas, family accommodation and staff offices. The upper floor houses a 12 bed residential wing and a therapy unit.
Doug Keillor, regional director of BAM Construction, said, "I have to single out the architects, GWP, for particular mention. Designing this type of building is not easy but what they have achieved seems to effortlessly incorporate all of the users needs into a bright and sustainable design that sits in and complements the existing gardens. We are becoming increasingly aware of the relationship between good design and health benefits, this must surely be a perfect example of a building designed to improve the health of its users.
"Getting here from the initial brief has been a long and occasionally challenging process but the quite amazing reaction of the building staff on the day we handed it over made all of that effort worthwhile."
BAM Construction has specialist expertise in healthcare with recent projects including St John's Hospital in Livingston, Border General Hospital, Oban Dental Access Centre, Stobhill Hospital in Glasgow, Glasgow Royal Infirmary and Ayr Hospital.