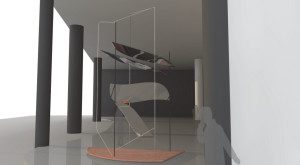 BAM Properties has commissioned Glasgow-based artist, Sara Barker, to create a striking sculpture for the public reception area of CONNECT110NS, a Grade-A office and retail development on Ingram Street, opposite the Museum of Modern Art.
The installation will be created from a variety of metals and is designed to capture the theme of 'People Make Glasgow' inspired by the productivity and creativity of the people of Glasgow and its industrial past.
John Burke, Managing Director Properties, BAM Construct UK said, "Sara has a growing reputation within the art world for her large sculptures made from metal, paint, brass and glass, and was recently named a Rising Star of 2015 by the Guardian, so we are delighted that she is able to create a legacy on our behalf for CONNECT110NS. Her design aptly captures our vision of CONNECT110NS and celebrates the City's people."
Explaining her inspiration behind the sculpture Sara said, "I've combined the sculptural shapes and materials of Glasgow's shipbuilding heritage in a design which is in keeping with the modernist and minimalist aesthetic of the building. Mirrored surfaces will create the shape, colour and movement of the people of Glasgow made with welded aluminium, which will be suspended within polished brass-work.
"The artwork is a celebration of the city's makers and doers, then and now – the people in Glasgow's thriving, creative community."
The sculpture will be installed within CONNECT110NS, owned by Deutsche Asset & Wealth Management (Deutsche AWM) following the development's completion in June. An eight storey building, more than 40% of the property has been let to leading professional companies . A further 83,000 sq ft of office accommodation remains for let along with 20,000 sq ft of ground floor retail space.
Born in Manchester and brought up in the Isle of Man, Sara lives and works in Glasgow and has exhibited throughout the UK including the Saatchi Gallery in London, the Hamburger Bahnhof in Berlin and the Gallery of Modern Art in Glasgow. Sara will be exhibiting this year at Edinburgh's Fruitmarket and Birmingham's Ikon gallery.