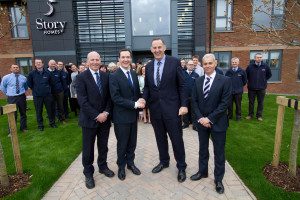 CHANCELLOR George Osborne took time out from a busy election campaign to open Story Homes' new Carlisle offices.
The Chancellor visited the development at Crindledyke Farm, Carlisle, where he lay a roof tile on a new house before visiting the company's nearby headquarters to cut the ribbon on the building.
The visit comes as Story Homes celebrates its most successful year to date, with 410 sales over 16 sites and an increased overall workforce of 183.
Story Homes' new offices cost £3m to refurbish and upgrade. Work began last April and ended in February of this year. There are 95 staff at the location which offers capacity for the company to expand to a workforce of 120.
Mr Osborne said, "Story Homes is a wonderful business which really does build not only people's homes but people's dreams. It has been a pleasure to open a new head office for such a successful and fast-growing business."
Story Homes Chief Executive Steve Errington said, "It is wonderful to have such a prestigious VIP to officially open our office after what has been another exceptional year for Story Homes. We've exceeded our sales expectations and seen significant growth which has seen us identified as one of the top 100 fastest-growing companies in the UK.
"We're now looking forward to this coming year with more new sites opening, continued expansion into the North East and North West and more recruitment to the Story Homes team."