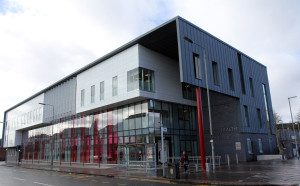 THE new £10 million Health and Care Centre in Possilpark, Glasgow was officially opened today by the Cabinet Secretary for Health and Wellbeing, Shona Robison.
With modern, state-of-the-art facilities, the Possilpark Health and Care Centre provides a base for a range of services including: four GP Practices, physiotherapy, podiatry, community dental services, general dental practitioner services, district nursing, social work, addiction services, health improvement teams and more.
Although the centre opened its doors to patients last year, today was the official opening as Shona Robison met staff and patients while she toured the new venue.
Ms Robison, Cabinet Secretary for Health and Wellbeing said,  "This is a fantastic new facility which brings together a number of essential NHS and local council services under one roof.
"This £10 million project has transformed healthcare facilities in the local area and Possilpark Health and Care Centre is a facility that the local community can rightly be proud of. I have seen today how patients, staff and visitors all enjoy the bright and comfortable surroundings.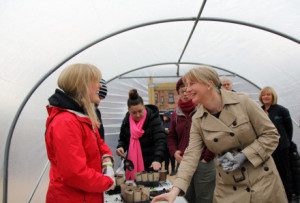 "The Scottish Government is investing over £2 billion in Scotland's health infrastructure over four years, to 2015-16, with this development being one of many that demonstrates the Scottish Government's commitment to continually improving health services."
Andrew Robertson, Chairman of NHS Greater Glasgow and Clyde added,  "I am delighted to welcome the Cabinet Secretary for Health and Wellbeing to the new health and care centre.
"This is an outstanding local initiative. We are extremely pleased that this new health and care centre is complete and that the people of Possilpark now have a wonderful modern facility
"The new centre is part of Phase 1 of a regeneration process underway for the area which when complete will transform the area's physical environment and seek to improve health and healthcare facilities.
"The purpose of this project has always been to enable and facilitate fundamental change, not simply the replacement of the previous health centre building and services.  Rather, the development has provided an opportunity to tackle health inequalities by improving the delivery of services – shaping them around the needs of patients through the development of partnerships and co-operation between patients, their carers and families, NHS staff and all partner agencies."
Additionally, exciting new plans are nearing completion to develop the vacant land behind the  Possilpark Health and Care Centre and the Business Centre on Saracen Street.
A partnership between NHSGGC the Green Exercise Partnership; Jobs and Business Glasgow; and voluntary sector organisations, the Concrete Garden and Friends of Possil Green space has transformed the 0.8 hectare site.
With high levels of vacant and derelict land in Possilpark, the new development will include a community growing space, a wild meadow and an urban gym wall ('Stoney Gym').
Further green developments around the health centre include street trees, a growing wall and extensive planting. A community gardener has helped local people, care and community groups to start growing a range of fruit and vegetables in the community growing space to promote community cohesion, physical activity and healthy eating in the thirty available plots. Volunteering and training opportunities will also be part of a wider programme to encourage employability.
The overall aim is to develop opportunities to enhance both the external and internal aspects of the campus to increase wellbeing, improve peoples' experience of visiting the centre and to engender a sense of community ownership of the building and its environment.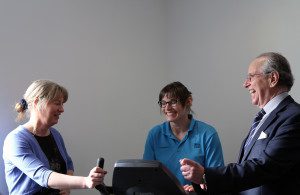 David Williams, Chief Officer Designate, Glasgow City Health and Social Care Partnership said,  "The new Possilpark Health and Care Centre is a great example of what can be achieved through the joint efforts of the council and our colleagues in the health service.
"It is entirely fitting that this fantastic new facility will open officially on the day the legislation that integrates health and social care in Scotland comes into effect.
"We have been working intensively with our health colleagues to build a health and social care partnership for Glasgow that will help to improve the lives of people all across the city.
"Our formal partnership is still in its early stages, but as the new Possilpark centre clearly shows we have a shared commitment to delivering health and care services of the highest standard for Glasgow."