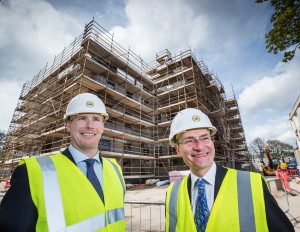 Bancon Group has confirmed the appointment of highly experienced commercial development specialist, Gavin Currie, as managing director of its construction business.
The announcement comes as the Aberdeenshire business reports securing new contracts valued at £5million and the completion of £22million of construction work at Mile End School and Aspire in Union Grove.
Currently commercial construction director at Dandara in Aberdeen, Mr Currie will succeed George Parsons, who is retiring from his post after 12 years with Bancon Group.
Mr Currie has 24 years' construction experience and has been involved in the delivery of major projects across the UK for contractors including Laing, Jarvis, Lilley and Miller Construction. He was retail project manager on the Millennium Dome in London, construction manager at Dynamic Earth, Edinburgh, and project director on the Elements shopping centre, Livingston.
John Irvine, chief executive of Bancon Group, said, "With a wealth of experience, particularly on projects of national significance, Gavin is an excellent appointment for our construction business which is currently very healthy across the North-east where we have a reputation for delivering prestigious construction projects."
Bancon Construction, based at Crathes in Royal Deeside, has a turnover of £60million and 300 employees. The firm operates from maintenance and specialist works through to major multi-million pound projects. Its clients include healthcare, leisure and hotel, education, retail, commercial, industrial and residential property organisations, as well as central and local government.