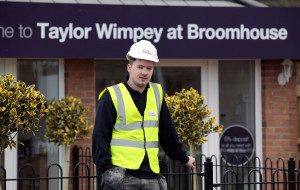 TAYLOR Wimpey is supporting National Apprenticeship Week by highlighting the life-changing opportunities apprenticeships offer young people – and the wider benefits they provide for industry and the country as a whole.
Running from Monday 9th to Friday 13th March, National Apprenticeship Week 2015 is aimed at celebrating apprenticeships and the positive impact they have on individuals, businesses and economy.
Taylor Wimpey, which is building new homes across the west of Scotland, is fully committed to supporting the initiative.
Anne Billson-Ross, Human Resources Director for Taylor Wimpey, said, "As a company, we are reaping the benefits of investing in apprenticeships and nurturing the next generation of housebuilders – and we would urge other businesses to do so too.
"Our retention rate shows that our apprentices fully appreciate the opportunities they've been given to develop their skills and progress in their careers. By devoting our time, resources and funding to their training, we're investing in their future success – and that of the company, our wider industry and the economy as a whole."
Taylor Wimpey currently has 18 trade and site management apprentices working for its west of Scotland regional business including Jamie Barr (22), from Garthanlock who attends Glasgow Kelvin College Springburn Campus as a bricklaying apprentice. He's on the brink of the next stage of his career in the housebuilding industry as he explained, "I got a taste of bricklaying when I did a National Progression Award (NPA) when I left school. I tried all the main trades but it was bricklaying that I really enjoyed and decided to get my apprenticeship in.
"Being an apprentice at Taylor Wimpey has given me a fantastic opportunity to learn and gain practical experience whilst also attending college. When I started my apprenticeship, there were very few apprenticeship opportunities and I was really lucky that Taylor Wimpey were looking to invest in the future."
And just at the start of her career is Karmen Stewart (20), who is originally from Livingston and now lives in Paisley. She attends West College Scotland in Paisley as a first year bricklaying apprentice and she's already got ambitious plans to change peoples' perceptions of women in the housebuilding industry. "There are challenges being female in a male-dominated industry but I just love proving everyone wrong when I'm able to do everything the guys are doing on-site. My ambition is to complete my four years apprenticeship and qualify, after that I'll hopefully continue my career with Taylor Wimpey. But one day I hope to start my own company that encourages more women into the construction industry."
Since the launch of its site management apprenticeship initiative in 2013, the company has now recruited 51 site management apprentices, while in 2014, Taylor Wimpey's trade apprenticeship scheme saw 70 young people start with the business – up 43% on the 49 who joined in 2013.
The company also employed 101 management trainees during the course of the year.
Taylor Wimpey aims to recruit at least 20 graduates, 20 management trainees and 100 apprentices in 2015.