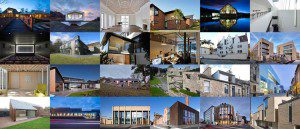 THE Royal Incorporation of Architects in Scotland (RIAS) has announced a 24 strong shortlist for its 2015 awards.
The judging panel for this year, chaired by Iain Dickson PPRIAS, also includes Julia Barfield, Marks Barfield, London (representing the Royal Institute of British Architects), Karen Cunningham, Director: Festival of Architecture 2016, Hugh Dutton Hon FRIAS (Hugh Dutton Associés, Paris) and Stuart Goodall, Director of Wood for Good and Chief Executive of the Confederation of Forest Industries (timber specialist).
Iain Connelly, President of the RIAS, said, "This year we had 65 submissions from throughout Scotland. They range in scale from a new take on a dormer window in the capital to the well-publicised new building for Glasgow School of Art. This number of entries is a tremendous vote of confidence and confirms that the award, in only its fourth year, is the single most important recognition of architectural achievement in Scotland.
"The judges will visit all 24 shortlisted schemes to determine which are worthy of an award. The judges are considering a plethora of projects of different scale and type, but they will only be rewarding those projects which they feel best address the key role of architecture: to improve the quality of people's lives. Looking at this brilliant list, they've got a tough job ahead."
RIAS Secretary, Neil Baxter, added, "These awards bring together individual awards sponsored by the Scottish Government, Historic Scotland, Wood for Good/Forestry Commission Scotland and Zero Waste Scotland and incorporate the RIBA Awards for Scotland. Over the last four years these awards have become firmly established as the most significant recognition of the benefits delivered by excellent architecture.  It is a huge credit to the profession in Scotland that, despite sometimes savage cost cutting, the remarkable work illustrated in this shortlist is still being produced."
The shortlist for Scotland comprises the following buildings (listed alphabetically):
Arcadia Nursery, Edinburgh
Malcolm Fraser Architects
"Designed to encourage play and nurture creativity, this delight-filled children's nursery provides three, linked, playrooms each accessing a covered terrace."
 Beach House, Morar          
Dualchas Architects
"This house takes maximum advantage of its coastal setting, its calm austerity and robust form appropriate in this elemental landscape."
Bonnington House 
Benjamin Tindall Architects
"Two new wings designed to complement the original extend this A Listed house to create an impressive family home."
Burns Wynd, Maybole
Austin-Smith:Lord LLP
"The slope of the site is cleverly exploited within the deep plans of these new homes, allowing each a sheltered garden."
Dalmunach Distillery, Moray
Archial Norr (Inverness Studio)
"Elegantly addressing the functional requirements of a contemporary distillery, this building also draws upon the rich history of such buildings."
Edinburgh Sculpture Workshop: Bill Scott Sculpture Centre (Phase 1) & Creative Laboratories (Phase 2)
Sutherland Hussey Architects
"Restrained and appropriately sculptural, this important new facility greatly enhances both the local area and Edinburgh's cultural attraction."
Glasgow Film Theatre – Cinema 3
NORD Architecture
"Carefully inserted within the historic fabric, this third screen is respectful to the materials and form of the much loved original."
Highland Steading
Marcus Lee and cameronwebster architects
"Commanding long views, the building adapts an existing steading to create luxurious living with service accommodation onto the rear courtyard."
House at Ravelston Dykes, Edinburgh
Richard Murphy Architects
"This subtle extension greatly improves the house's connection with its site and creates welcoming and comfortable family accommodation."
jmarchitects Glasgow Studio
jmarchitects
"Quite literally putting architecture onto the street, this new shop/office simultaneously accommodates the practice and promotes its work."
Lamb's House, Edinburgh
Groves-Raines Architects Ltd
"This rare survivor has been carefully restored from near dereliction and returned to its original usage, accommodating a business and home."
Laurieston Transformational Area, Glasgow
Page\Park Architects and Elder and Cannon Architects
"Reinterpreting the traditional Glasgow tenement, these blocks, fittingly urban in scale, provide high quality homes close to the heart of the city."
Maggie's Lanarkshire, Airdrie
Reiach and Hall Architects
"A respite from the clinical atmosphere and built form of the nearby hospital, this is a place of relaxation and contemplation."
Mid Rock House, Elie
WT Architecture
"Cleverly scaled to the existing vernacular, this is contemporary beach-side architecture, utilising a limited materials palette in seductively simple forms."
The Mill, Southside Steading, Peebles
WT Architecture
"A new timber home has been inserted within the existing walls, retaining much historic character while creating a well-lit contemporary dwelling."
Penicuik House, Midlothian
Simpson and Brown Architects
"An enduring reminder of the Scottish Enlightenment, this consolidation of one of Scotland's most important historic houses has taken twenty years."
Regency Dormer, Edinburgh
Konishi Gaffney Architects
"Challenging more conventional and traditional approaches, this low profile dormer window, elegantly detailed, transforms the home, setting new standards."
Reid Building, Glasgow School of Art
Steven Holl Architects with jmarchitects
"A building of extraordinary rigour was required as a foil to Mackintosh's masterpiece, eschewing pastiche it nods respectfully to its neighbour."
Rosefield, Edinburgh
A449 LTD
"Respecting the utilitarian aesthetic of this former stable/coach house, this adaptation utilises a restrained palette to create a new family home."
Royal Conservatoire of Scotland, Glasgow
Malcolm Fraser Architects
"Former industrial spaces now provide flexible rehearsal rooms alongside larger, new-build, multi-purpose spaces, greatly enhancing the facilities of the Conservatoire."
The Shields Centre, Glasgow
Anderson Bell + Christie Architects
"Combining two medical practices with other social service provision, this building signals its presence with a brick-classical colonnade onto the street."
Speirs Centre, Alloa
LDN Architects LLP
"Adapting an impressive Victorian public baths and gym with an uncompromisingly new extension delivers important new community facilities and offices."
Theatre Royal, Glasgow
Page \ Park Architects
"Creating a welcoming entrance foyer and embracing a sinuous stair, this new structure also boldly signposts Scottish Opera's HQ."
West Burn Lane, St Andrews
Sutherland Hussey Architects
"Following St Andrews' historic 'rigg' pattern, this new development is gracefully inserted within one of Scotland's most historic urban environments."
This year's winners will be announced at the RIAS Awards Dinner on 17th June at the Balmoral Hotel, Edinburgh.