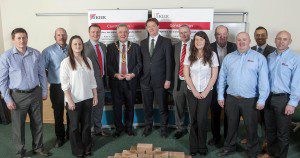 Kier Construction has opened a new office in the Scottish Highlands.
Based at Beachwood Business Park in Inverness, the premises will act as a hub for the company's work in the region. The move has created ten full-time jobs as well as apprenticeship opportunities for young people in the local community.
The office was formally opened by Highland MP and Chief Secretary to the Treasury, Danny Alexander.
Although Kier Construction's headquarters remain in Stepps, having secured various contracts in the Highlands area, the company decided to open a locally staffed hub to manage and oversee the multiple projects.
Recent contracts in the area include a new £14m community centre and primary school campus at Caol, Fort William and a £3.5m programme of council house heating upgrades through the Scape National Framework for Minor Works.
Two developments to modify council housing heating have already been completed in Mllafua, Alness and Hilton, Inverness. In keeping with the community focused ethos of the company, 100% of Kier's contract spend was within a 20-mile radius of the site. It is anticipated that further council house heating upgrades will take place throughout the region.
Kier is also working with Highlands & Islands Enterprise on the Framework, on a project at the Cairngorm Visitor Centre and on a business incubator development in Sandbank, Dunoon.
Sean O'Callaghan, Kier Construction's Area Operations Director, said, "The opening of the hub has allowed us to employ ten full-time and permanent members of staff – and the benefits to suppliers in the area have resulted in further employment as well as the creation of apprenticeships for young people. As a company we pride ourselves on our community focus. It's important to us that we are involved on the ground level and that local suppliers and the local economy benefit as much as possible from the contracts we win.
"A 100% contract spend within 20 miles of the sites for the central heating upgrades is a remarkable achievement – and one which we hope to replicate throughout the region. All in all this is great news for both the Highlands and Kier."
Opening the office, Highland MP Danny Alexander added, "I'm delighted to be officially opening Kier Construction's new Highland office. The 10 jobs that Kier have created join the 6000 other jobs that have been created by local businesses as part of a wider Highland economy which is booming.
"Kier Construction has won a number of multi-million pound contracts, which not only reflects the strength of the Highlands but also of Kier's credentials.
"I am particularly pleased apprenticeships will form part of Kier's interaction with local communities, forming a strong employment base for the future."