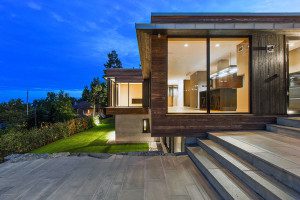 KEBONY has announced its latest residential project, Villa Melkeveien, in Oslo, Norway.
Situated on a sunny hillside in Holmenkollen overlooking Oslo, the property's floor to ceiling windows provide spectacular views of the city, stretching out towards the Oslo Fjord.
Designed by LOGG Arkitekter, the modern villa is wrapped in horizontal Kebony cladding and glass, contrasting yet complementing the area's surrounding villas.
Consisting of two main blocks in a T-shape formation, the four-bedroom house occupies 300m², with an additional 50m² garage space. The lounge and kitchen offer spectacular views with direct access to the terrace. The house also has a spa room and a separate guest area with its own private kitchen and bathroom.
Completed in 2014 after a two-year build process, the house is built on a previously unoccupied site.
Transformed into a modern family house, the development was commissioned by an owner-occupier and private client who appointed LOGG Arkitekter. The design was inspired by the spectacular scenery that surrounds the Vettakollen hill.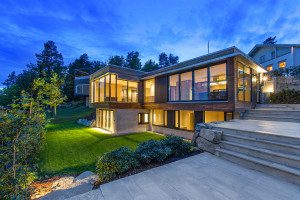 Along with extensive use of stone, slate and glass on the exterior of the building, Kebony wood is also used in the building's cladding. Kebony was chosen for the build for both its aesthetic qualities and hardwearing ability.
Both the owners and architects were particularly aware of sustainable building methods throughout the development. Kebony is a Norwegian material, manufactured in nearby Oslo using sustainably sourced soft wood species such as clear and character grade pines. The wood is impregnated with a non-chemical bio-based product, heated and put under pressure. The resulting product is highly durable and maintenance free and as such, Kebony diverts demand away from tropical forests.
Diederik Advocaat Clausen, Partner at LOGG Arkitekter said, "With Villa Melkeveien we have designed a house that is both at the epitome of luxury yet also environmentally friendly. Working with Kebony allowed us a nod towards the villa's Scandinavian setting, offset with extensive glass to create a contemporary feel."
Adrian Pye, International Sales Director at Kebony, added, "We are absolutely thrilled with this latest project, the house is of exceptional quality design and is a truly eye catching addition to the Vettakoillen hill side. When Kebony wood was specified by LOGG Arkitekter and we got involved in the project we knew from the designs that the house would be beautiful but the end result has surpassed expectations, we look forward to working with them again in the future."