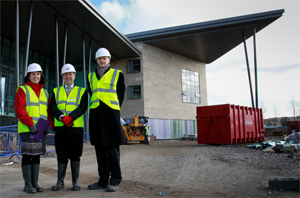 WITH overall investment now approaching £100m, Inverness Campus is one of Scotland's most ambitious infrastructure projects that will bring together business, research and education on one site when it is officially opened later this year.
Infrastructure Secretary, Keith Brown visited the site of the state of the art facility which is being developed by Highland and Islands Enterprise who have invested around £30 million in the Campus that occupies 215 acres of prime development land at Beechwood, Inverness. Independent research estimates the Campus has the potential to support up to 6,000 jobs over the next 30 years and generate £38 million GVA to the Highlands and Islands economy every year.
The co-location of academic institutions within the Campus – the University of Highlands and Islands (UHI), Inverness College UHI, and Scotland's Rural College – with business will lead to valuable collaboration and knowledge transfer. A number of other public, private and third sector proposals for the site are in the pipeline which will help create high quality jobs and increase the economic impact, benefiting both Inverness and the wider area.
Mr Brown was given a tour of the new Inverness College UHI building which will open to students August 2015. The £52m project, which will also see the refurbishment of the Scottish School of Forestry at Balloch, will deliver an exciting array of further and higher education courses to over 6,500 students and is being supported by the Scottish Government through the NPD pipeline.
Mr Brown said, "This award winning facility will provide first class facilities in which students can learn and develop their education and training. I'm delighted to see the progress that has been made to the building so far. The College will be the first occupiers of the wider Inverness Campus which has already created some exciting developments for the local economy, with many more to come. Independent research estimates that the campus could generate £38 million to the local economy each year and support up 6,000 over the next 30 years. The location is being developed by Highlands and Islands Enterprise as a prime site for business, research and education.
"Work is almost complete on the first phase of the new Inverness Campus which is due to open in May this year. Inverness College UHI will be the first occupiers and in time they'll be joined by a number of research departments of the University of the Highlands and Islands, a Science Skills Academy and Scotland's Rural College. The Campus will see businesses co-located with organisations involved in relevant research and education. This will allow them to share knowledge and resources and I think the benefits of this innovative approach will be felt for decades to come."
Diane Rawlinson Principal and Chief Executive of Inverness College UHI added, "At Inverness College we are immensely proud to be the first occupants of Inverness Campus and at the epicentre of economic development for Inverness. Our new buildings provide an inspiring environment, fitting for this truly progressive organisation. In Inverness, we are a College and a University, at the forefront of skills development as well as research. Working hand in hand with industry on both fronts, creating opportunities for future generations."
Ruaraidh MacNeil, Inverness Campus project director at Highlands and Islands Enterprise (HIE), said, "Our plan for Inverness Campus is to create a world-class setting for business, research and education. We are delighted to be able to show the Minister progress on site, especially as both the speculative Life Sciences building developed by HIE and the new Inverness College UHI are nearing completion. With over 30 acres of parkland and landscaping, it is as much a place for the local community as it is for those studying, living and working on Campus and we are looking forward to Inverness Campus opening to the public in May this year."