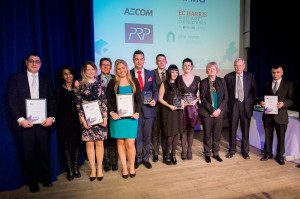 AN awards evening recently honoured exceptional young professionals who have overcome great personal difficulties to establish promising careers.  
Now in its fourth year, the Young Achievers Scheme, with the support of the Trust's Patron, HRH The Duke of Gloucester, has been an opportunity to commend and celebrate standout candidates who have shown resilience and determination to get where they are.
All the shortlisted candidates joined over 200 senior industry figures and HRH The Duke of Gloucester at the awards evening in the Underglobe, where the winners were announced.
Construction Youth Trust Director, Christine Townley said,
"The Awards has once again shown some exceptional young talent and it was a real priviledge to meet them all. They have all made significant achievements despite having to overcome challenges to get there and they all deserved the recognition they received tonight. We are very lucky that they have all chosen construction as a career – they are the future of the success of the industry,
"As a charity we support young people from all walks of life to enter the construction industry and we hope that by showcasing what these young people have achieved and recognising any challenges they have overcome, that we can show the next generation of young professionals the wealth of opportunities available in the sector.
"We are extremely grateful to all of our sponsors, judges and our Patron, HRH The Duke of Gloucester, for making these awards possible."
The awards had 5 categories: Design & Architecture, Construction Delivery, Surveying, Engineering and Project Management.
Winners will each receive a unique package of support through the Trust and development opportunities through a one-year mentoring programme to further their careers.
The winners were:
Winner of winners: Dylan Shankland, North Ayrshire Council
Construction Delivery: Yasar Ugur, Berkeley Homes
Design and Architecture: Sarah Habershon, Hawkins Brown Architects
Engineering: Yvonne Murphy, Arup
Project Management Winner: Nazma Uddin, Rise Management Consultant
Surveying Joint Winners: Luke Brooker, EC Harris and Dylan Shankland, North Ayrshire Council
The highly commended finalists were:
Design and Architecture: Lucy Stephens, WRW Construction
Engineering: Michael McClean, Aecom
Construction Delivery: Zoe Haigh, Hyder Consulting
Project Management: Nochum Dewhurst, Dewhurst Consulting
The Awards were sponsored by CITB, KPMG, AECOM, PRP, EC Harris and John Rowan & Partners.