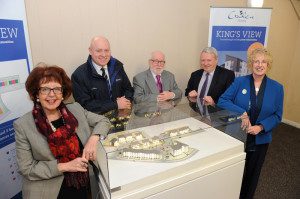 Scottish house builder, Cruden Homes, has announced the eagerly anticipated first phase of 55 affordable private homes for sale at its King's View Development in Glasgow's South Side. The development was launched by Scotland's Housing Minister Margaret Burgess MSP.
The leading developer unveiled details of the private housing for sale, giving an insight into the future homes, location and the surrounding area. The initial £6m development will be delivered by the Group's own construction arm Cruden Building and Renewals Limited and will feature a range of newly designed 1 & 2 bedroom apartments and 2 & 3 bedroom terraced and semi-detached family homes especially designed to meet the market needs from extensive research.  The homes will be sold 'off plan', to meet demand, in advance of the properties being built, in a new innovative approach to be announced at the first sales launch in May this year.
Already 450 people have registered their interest for these homes. The first phase of this new project is expected to begin in May 2015 with the first of the 55 homes for sale expected to be complete by early 2016, ready for spring.
The development will transform a brownfield site adjacent to King's Park, close to Hampden, and just two miles from Glasgow city centre. With a proven track record in regeneration and the delivery of quality affordable homes across the city, most recently demonstrated at the Commonwealth Games Athletes' Village as part of the City Legacy consortium – Cruden brings a wealth of experience  to Toryglen as King's View strives to be the nucleus for a vibrant new south side community.
Cruden is also working with Glasgow Housing Association and Glasgow City Council to build 100 homes for rent as part of the planned structured mixed tenure approach to sustainable regeneration for the area.
The launch took place at Toryglen Community Centre, where Ms. Burgess was joined by John Gallacher, Managing Director of Cruden Homes, Councillor Bailie Liz Cameron, of Glasgow City Council and Gordon Sloan, Chair of Glasgow Housing Association, and Allan Callaghan, Managing Director of Cruden Building & Renewals Limited.
Cruden's renowned strong heritage in successful regeneration projects, and the company's goal to ensure that local people and businesses benefit as a result of its projects, will generate opportunities for apprenticeships, training and employment for the community and also create opportunities for local sub-contractors and suppliers.
Cruden Homes MD, John Gallacher said, "It's great for Cruden to be involved at ground level in the regeneration and transformation of North Toryglen.  Our package of affordable quality private housing, combined with the job opportunities the development will create and our work with Glasgow Housing Association to deliver homes for rent, will make a significant difference in the area by creating a re-invigorated economic environment which is ripe for public and private investment. That's great news for the local economy, Toryglen as a whole and for the city of Glasgow.
"This is an exciting project for us and one which is core to our expertise in housebuilding and house sales.  We anticipate high demand for the first Phase 1 sales launch as to date, well over 400 people have already registered their interest following the launch of the development name at the end of last year."
Housing Minister Margaret Burgess added, "Housing is at the heart of this Government's ambition to create a fairer and more prosperous country. Once the regeneration of North Toryglen is complete, there will be approximately 374 homes available – 100 for social rent and the rest for outright sale. The Scottish Government has invested over £4.5 million in the area, which underlines our commitment to high quality housing and to transforming communities in Glasgow."