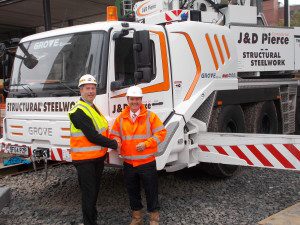 IMPRESSED by the performance of the Grove GMK4100L and Grove GMK3055, which it purchased in 2013, J & D Pierce – Scotland's leading structural steelwork and steel erection contractor – has invested in another unit of each crane for its growing fleet.
All four all-terrain Grove cranes are now working on one of the largest fabrication and erection projects undertaken by the Ayrshire-based contractor, a £220 million development in Glasgow that will become the largest college in Scotland. The versatility and quick-set of the Grove cranes are essential for the variety of materials and sizes being lifted at the City Campus job site in Glasgow. With some parts measuring more than 20m, the Grove cranes' renowned maneuverability and precise load control are key for this project.
J & D Pierce bought its first two Grove cranes in 1997 and has made multiple purchases since then. With further growth on the horizon, J & D Pierce is keen to expand its project list. Its fleet of Grove cranes will be central to that ambition as Managing Director Derek Pierce explained.
"These four new Grove cranes have helped us deliver some of the biggest steel structure projects in Scotland," he said. "They work hard and are very reliable. As our business grows in this market, we are sure to expand our fleet, and I am confident that Grove cranes will be part of our expansion for many years to come."
At the City Campus job site, the cranes are charged with installing more than 6,000 t of steel and 20,000 t of precast concrete.
J & D Pierce's fleet of six Grove cranes is central to its growing business, performing up to 50 lifts every day at a wide variety of large-scale projects across the UK. The company's cranes predominantly lift pre-fabricated structural steel, but they also install precast concrete slabs, stairs and metal decking. Job sites vary in size and scale, but many are highly congested and require a compact, but long-reaching crane that can maneuver around other structures and equipment.
The GMK4100L is a four-axle, 100 t capacity crane, with an impressive 60 m boom that can be extended to 82 m with a fly jib. The three-axle Grove GMK3055 offers a 55 t capacity and 43 m boom, which can be extended to 58 m with a fly jib.