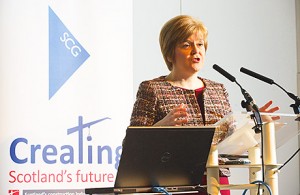 FIRST Minister Nicola Sturgeon has said everyone in the Inverness region should have a say in the shaping of the City Deal bid.
Ms Sturgeon said the bid application should be an opportunity for community, business and civic society to put forward their ideas on how they want to shape the future of the Highland capital. She confirmed the Scottish Government would help fund local consultation with the community as the bid was developed.
Inverness is in the running to benefit from City Deal funding and will be working on a bid in the coming months.
Nicola Sturgeon said, "Cities and their regions are the engines of our economy and the Scottish Government is committed to working with Scotland's seven cities to optimise growth for the benefit of the whole of Scotland.
"It is great news that Inverness have been invited to bid for City Deal funding – the Scottish Government right behind the bid, working with the Scottish Futures Trust and The Highland Council to further develop their strategic case. We will work with any Scottish city region considering a deal to make sure that we help them get the best possible outcome. A successful bid could see the Inverness area benefit from major infrastructure projects, innovation and new jobs. The City Deal could be used to develop a programme of work which will greatly add to the value of the local economy over the years to come.
"It is really important that everyone who lives and works in Inverness is given the chance to make their views known about what they would like to see from a City Deal. People are our cities' greatest assets and those who are based in Inverness and contribute to everyday life are best placed to determine the future of their city. I would encourage everyone from business, communities and wider civic society to get involved in backing this bid."
The Leader of Highland Council, Drew Hendry, said, "Securing a City Deal could be transformative, boosting our economy and improving the quality of life. Plans for our bid should not be drawn up behind closed doors, but shaped by the people who live and work here. Local people must have their say so that, when the bid goes forward, it has the backing of the community behind it. This really is an exciting opportunity for the Highlands which has the potential to improve our infrastructure, economy and local quality of life for decades to come."