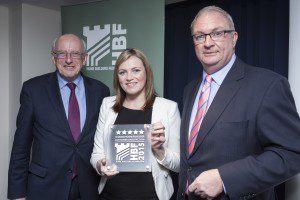 STORY Homes has won a top industry award for customer satisfaction and in the same week scored an 'Outstanding' rating from independent customer satisfaction experts.
The house builder has been given a top 'Five Star' rating in the home building industry's annual customer satisfaction survey, going up from 92% to 96%.
More than nine in ten Story Home buyers said they would recommend the company to a friend compared to an overall industry average of 86%.
The results were collected by the Home Builders Federation (HBF) and the National House Building Council (NHBC), with thousands of new home buyers across the country taking part.
Five stars is the highest possible result and of the 31 companies eligible to publish a star rating this year, 15 are five star and 13 are four star.
The results were announced on Wednesday, March 11, at an industry-hosted event at the Institution of Civil Engineers on Great George Street in Westminster, London.
In the same week, Story Homes has also scooped yet another accolade for customer service – a rare 'Outstanding' rating from customer experience research experts In-house after more than 90 per cent of customers said they would recommend the company.
In-house managing director Malcolm Pitcher said the results underlined the importance of continually being proactive to the responses of home buyers.
Steve Errington, Chief Executive of Story Homes, welcomed both awards and said, "Customer satisfaction is a huge priority for Story Homes, and we're proud of the effort we put into our customer care.
"We were delighted when we were awarded five stars last year, and to have bettered our score this year during a period of rapid expansion for our company is absolutely fantastic – it's a real testament to the hard work and commitment of our team."
The HBF and NHBC survey, alongside the industry's self-imposed Consumer Code, was introduced after the Barker Review of Housing Supply 11 years ago.
Since its launch, the survey has resulted in a steady improvement in customer service levels delivered by house builders. In the first year of the survey only 75% of respondents would have recommended their builder to a friend while 76% were happy with the overall quality of their home. Ten years ago there was just one Five Star Builder.
Stewart Baseley, Executive Chairman of HBF, congratulated Story Homes on achieving its five star rating.
He said: "The increase in output we have seen over the period when the results were collected has put great pressure on our industry and its employees, so to record such a score is an outstanding achievement."