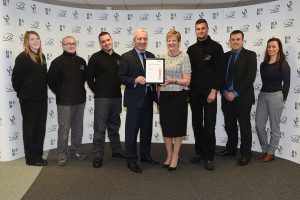 SCOTTISH construction company, City Building, has secured a prestigious European award for its commitment to delivering excellence throughout its firm.
Quality Scotland, national partner of the EFQM (European Foundation for Quality Management), an organisation for driving performance improvement, presented its Committed to Excellence award to City Building. The annual award is in recognition of companies that strive to reach sustainable excellence in the private, public and non-profit sectors.
Employees throughout the company, from apprentices to the Executive Director, were involved in the assessment process.
Participants carried out a number of exercises including understanding how effective the company's deployment strategy is, examining current strengths and opportunities and establishing baseline positions to measure progress over time. Following a number of assessments and interviews with Managers and focus groups, City Building secured the award for the first time.
Quality Scotland through EFQM recognises organisations that transform strategy into action whilst continuously improving company performance. City Building was distinguished from competitors by its communication with employees, succession planning and performance management.
Graham Paterson, Executive Director of City Building said, "Being selected to receive the EFQM award is an important recognition for our organisation and acts as a great motivator to our entire team who have all played their parts in contributing towards securing this accolade for the company."
Claire Ford, Chief Operating Officer of Quality Scotland, said, "Quality Scotland are delighted to present City Building with their 1 star Committed to Excellence Award.
"This recognition demonstrates the high level of commitment to continuous improvement evident across the organisation and we look forward to working with City Building as they progress with further levels of European recognition."
Councillor Maureen Burke, chair of City Building, said, "The decision of Quality Scotland to present City Building with this award reinforces the company as a leader in excellence in its field.
"Congratulations should be given to everyone in the organisation for their continued hard work and in securing this sought after accolade."
A rigorous assessment processes based on the EFQM Excellence model is put in place to select the award winners, which is based on principles of training, assessment, sharing and recognition.