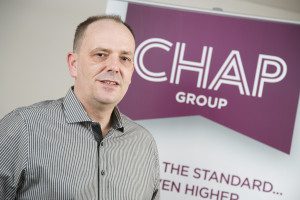 CHAP Group has appointed two key members of staff to its busy minor works department.
The Aberdeen based group, which operates divisions in the construction, commercial property, house building, civil engineering and quarrying sectors, has welcomed Neil Golden and David Coutes.
Neil previously worked for the company on an agency basis, and has joined as the contracts manager for the minor works department. He brings an extensive range of experience to the position, having worked across Scotland in a variety of senior management roles within the sector.
David, who joins CHAP from Kier Milne, has taken up the role of minor works manager and will have responsibility for surveying and estimating as well as the overall control of this department. Established in 1976, CHAP has an annual turnover in excess of £45m and employs more than 200 people.
Douglas Thomson, joint managing director of CHAP Group, said, "Neil proved himself to be a great asset and we are delighted to welcome him to our minor works department on a permanent basis. He has great experience in the industry and particularly excels in project management. The division has been strengthened even more with David's appointment and his knowledge of the sector and strong skillset will be vital as we look to capitalise on new opportunities within the industry throughout the months ahead. I have no doubt that Neil and David will both play a key role in the future success and growth of CHAP Construction."
Neil said, "This is a great opportunity to be part of an innovative company that has a modern approach and traditional expertise. CHAP Construction sets itself apart from its competitors with its personal, tailored approach and I am pleased to be a part of that. I am looking forward to contributing to CHAP's on-going growth, development and vision, and guiding the experienced team within Minor Works on a diverse portfolio of work."
David added, "I am delighted to be joining CHAP at what is a very exciting time in its development as it is a well-established company with great people, drive and ambition. CHAP has earned itself a tremendous reputation within the industry for great service across varied divisions and I am excited to add to their continued success."
 The minor works department carries out a diverse range of construction projects from industrial maintenance works, reconfigurations and facilities management works, refurbishment and restoration works to specialist civil engineering works such as under-pinning and has worked with a variety of high profile clients including BG Group, Baker Hughes and Champion Environ. Employing a select group of highly skilled local tradesmen, and trusted subcontractors.