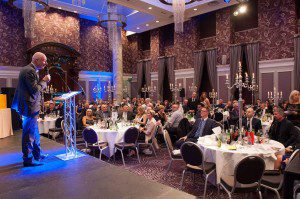 THE team at Barratt Homes West Scotland raised a whopping £18,679 for Shelter Scotland at its inaugural charity dinner last week.
The event for more than 300 contractors, suppliers and staff of the west Scotland division took place at the Grand Central Hotel in Glasgow.
From golf days and spa days to football hospitality and signed sports memorabilia, each of the top prizes on offer at auction received an enthusiastic response from the crowd, helping to push up the total raised throughout the evening.  As well an auction and prize raffle, former Scottish footballer and after-dinner speaker John Gahagan entertained the audience with tales from his playing days at Motherwell FC.
David Scott, Managing Director of Barratt Homes West Scotland, said, "I am overwhelmed by the level of support and generosity shown to us by our contractors, suppliers and staff in helping us to reach this fantastic total for Shelter Scotland. The charity makes such an important difference to the lives of so many people in Scotland, and it's a cause which is very close to our hearts here at Barratt. Given the success of this year's event, I'm hopeful of repeating it again in 2016, and building our relationship with Shelter Scotland over the longer term."
Graeme Brown, Director of Shelter Scotland, said: "We are so grateful to Barratt Homes for their continued support. At a time when Scotland faces a national housing crisis, generosity like this enables us to offer vital services to those experiencing homelessness and housing problems. It costs just £10 to help a family or individual facing the tragedy of homelessness through our free national helpline. Every penny from every donation made to Shelter Scotland goes towards helping people in housing need in Scotland."
Each year, Shelter Scotland helps half a million people facing housing and homelessness difficulties by providing expert support services, online advice and a free national helpline.