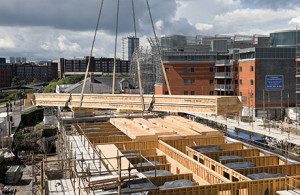 ROBERTSON Group has seen its Timber Engineering business experience its most successful year in the past five years thanks to a string of new contract wins, marking a return in demand for Robertson Timber framed buildings in the construction industry.
The firm's turnover for its timber business has doubled over the past 12 months, and is expected to increase even further by the end of this year. It is the company's biggest increase in revenue since before the recession.
Recent contracts wins include a string of hotels across the country, along with schools, health centres and housing adding to their growing commercial portfolio of both long standing and new customers.
A recovering economy resulting in an increase in development activity means the firm could re-open its English manufacturing site in Seaham, County Durham, with the possible creation of 40 jobs in the region.
All Robertson Timber Engineering Manufacturing is currently performed in Elgin by the 42-strong workforce.
Mike Turner, General Manager at Robertson Timber Engineering said, "With the economy showing real signs of recovery, Robertson Timber Engineering has experienced strong growth over the past 12 months.
"Coupled with the global brick shortage and the cost of bricklayers, customers are demanding quality, affordable alternatives.
"We've also made a number of key appointments to our teams to help meet demand as well as focus on increasing our customer portfolio.
"Furthermore, we've invested to ensure all of our timber frames meet quality controls set by the Timber Trade Federation.
"This will ensure we can continue to operate as seamlessly as possible and guarantee a quality end product."
Robertson Timber Engineering has been providing precision engineered timber frame solutions for more than 25 years.
During this time they have worked with a range of clients including national house builders, large construction firms, housing associations, regional and local developers, and have helped countless self-builders to create their dream home through the supply of bespoke 'one-off' kits.
The firm is currently in talks with a number of organisations across the public and private sector to deliver various projects and looks set for a successful year in 2015.