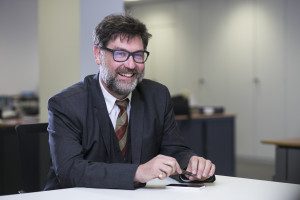 PLANNING consultancy Turley has recently appointed Director Goeff Whitten.
Whitten, a Chartered Landscape Architect and Urban Designer, joined Turley in Edinbugh on Monday 2 Feburary, bringing extensive experience and insight in large complex developments – particularly in residential, education and leisure sectors.
In Scotland, Whitten has already played a major part in the successful planning and implementation of projects including The Carrick Loch Lomond, the Edinburgh City By-Pass, design guidelines for the Dundee Digital Media Park and masterplanning frameworks such as Queen Margaret University College Edinburgh and numerous urban expansion projects around Glasgow.
For the past two years Whitten has been working for international engineering and construction consultancy Parsons International as a landscape Project Manager; working on such projects as the Lusail City scheme in Doha, Qatar – a 38km2 development that will create a self-sustaining mix of residential, commercial, retail, hospital, resort and entertainment venues.
On joining Turley, Whitten said, "I am thrilled to be returning to my adopted home town Edinburgh and to Turley.  The company has a terrific reputation in the urban design world and has worked on some of the most exciting schemes in Scotland and across the UK.  I look forward to developing my career and the company's design capabilities in Scotland over the coming months."
Jamie Ferguson, Director and Head of Design at Turley, added, "We are delighted with Geoff's decision to join our Design team in Scotland.  He has played a major role on many of the country's major residential and mixed-use developments for AECOM, Lovejoy and EDAW.  Geoff will be assisting the Turley design teams across the UK but working primarily from both our Edinburgh and Glasgow offices and we look forward to the contribution he will bring."
Turley Design's recent projects include the masterplanning of the first phase of the 250 home allocation to the West of Edinburgh, a 600 home redevelopment of a former tank factory in Leeds and on-going work to deliver a major urban extension in Durham with over 1200 homes and a new local centre.