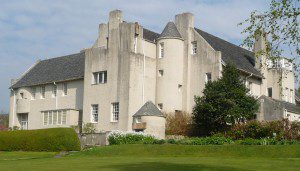 THE National Trust for Scotland is looking for a practice or organisation to lead a phase of research and development work in a project at Charles Rennie Mackintosh's Hill House in Helensburgh.
Built in 1902, the house was designed by Mackintosh for Walter M Blackie, a Glasgow publisher. The property is of international significance for both its external and internal design.
The cutting-edge nature of the design and the extensive use of 'modern' materials in the early 20th Century mean that since construction, the building has suffered from persistent moisture penetration through its cement based external roughcast finish.
During this time various remedies have been attempted to control ingress; however, the house continues to be adversely affected, placing the fabric and interiors at risk and detracting from Mackintosh's overall aesthetic.
The findings of recent inspections and research suggest that an alternative approach is required to protect the building.
The National Trust for Scotland is developing plans for a repair programme and is now seeking interest from suitably qualified and experienced practices, research establishments and organisations to lead a phase of research and development (including the potential delivery of trial/pilot project) that will establish an appropriate maintenance/repair methodology for the roughcast that protects the significance of the place for future generations.
To register your interest in receiving a Pre-Qualification Questionnaire, emai lthe Buildings Department at buildings@nts.org.uk