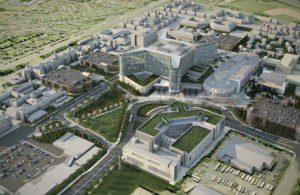 SCHOOLS, colleges, hospitals, transport and other public infrastructure projects worth around £1.5 billion are set to be completed this year.
Thousands of full-time Scottish jobs were supported thanks to the Scottish Government investment, announced today by Infrastructure Secretary Keith Brown.
Speaking during a visit to Calton Road affordable housing development ahead of a debate in Parliament on Building Scotland's Infrastructure for the Future, the Cabinet Secretary also called on the UK Government to invest further in Scottish infrastructure in order to boost the economy.
Mr Brown said, "Up and down Scotland, people can already see the tangible results of this billion and a half pound investment – indeed, even now there are construction sites all over the country providing enormous benefits to industry already. During 2015 alone, we expect infrastructure projects like the new South Glasgow hospitals, the Borders Railway and Inverness College to be completed and ready for use – and already they are helping to secure economic recovery and strengthen public services.
"The education, health and transport projects being supported will be of great benefit in their own right but they are also critical to boosting our economy with the public sector spending supporting thousands of full time Scottish jobs.
"The Scottish Government places a high priority on the role of infrastructure investment in supporting our economy and our public services and I am inspired by the outlook for the year ahead. The steps we are taking demonstrate not just what is being achieved now, but also what more could be done if the UK Government were willing to change its course on public spending in order to provide further support for infrastructure, skills and education to boost the economy.
"This Government is determined to invest in Scotland's infrastructure both to stimulate growth and to lay the foundations for long term success. That is good news for our economy and good news for the people of Scotland."
The list of projects includes the New South Glasgow Hospital. The new campus is one of the largest hospital complexes in Europe and has maternity, paediatric and adult hospitals all integrated onto a single site and will offer a gold standard in acute hospital provision. Delivery was achieved ahead of schedule and within budget and the overall migration and commissioning process is expected to be complete by June.
Another project is the Borders Railway. The longest domestic railway to be built in the UK in more than 100 years is on budget and remains on-track to reach completion over the summer and to open for passengers in September.