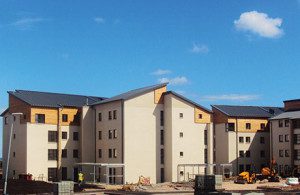 OCHIL Timber has been supplying impressive roof trusses for the latest phase of student residences at St Andrew's University's Fife Park site.
The £73,000 contract will see Ochil supply 600 roof trusses for the nine accommodation blocks over a six-to-eight week construction period.
These are being manufactured offsite in Ochil's Denny fabricating plant, using sustainably sourced timber.
Ochil has had a long involvement with the various phases of this extensive project, starting in 2001, and was responsible for the specialist truss design which this particular project's roofline demanded.
Ochil Managing Director, Andrew McAree explained, "The asymmetric, mono-pitch roof design has an exposed rafter detail at the eaves overhang, which required a specialist detail.
"We designed this to be suitable for offsite manufacture, which saved the contractors a lot of time on site. We also used pre-coloured fibreboard for the exposed soffits, which minimised maintenance."
While Ochil is providing trusses on a 'supply only' basis on this phase, on earlier phases they have provided supply and erect services for roof trusses to Morrison Construction and roof trusses and structural timber frames to Sir Robert McAlpine.
As Project Architect since Phase 1, Max Davidson of Halliday Fraser Munro has also had a           long involvement with these Student Residences. He is responsible for the original project design and the design development throughout.
He said, "Ochil have been involved in the St Andrews' residences from the beginning and as project architects we've always found them very good to work with."
The main contractor on the current phase is CCG, with whom Ochil has worked on various projects since 2007.