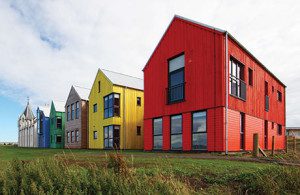 "WE do more with less."
That's what Ian McKee describes as GLM's Unique Selling Point.
Ian is Managing Director of the Edinburgh-based firm, home to an experienced team of architects, building surveyors and project managers who work on diverse projects across Scotland and the rest of the UK.
GLM was recently shortlisted for the RIAS Andrew Doolan 'Best Building in Scotland' Award and received a special mention for their work on the Inn at John O'Groats.
Having started life as a fledgling firm almost three decades ago, they have become one of Scotland's most respected consultancies with an impressive portfolio of work across a wide range of sectors from tourism and retail to education and restaurants.
Ian explained, "The business grew in the 1990s on the back of retail and country house work. Director David Gibbon is the leading expert on castles/country estates. In the late 1990s we moved into more commercial-type work. Edinburgh's George Street was going through a transformation and we converted a number of buildings into cafes and restaurants.
"As the 2000s dawned, there was a bit of a hiccup when the .com bubble burst. This had an impact on property, with retail hit quite hard. We started to move away from retail and into private schools – mostly old, historic buildings in need of a lot of maintenance, mini-refurbishments and new labs and classes."
A core part of GLM's business involves transforming country estates for owners looking to diversify, for example turning them into upmarket tourist locations. Ian added, "We've turned castles into boutique hotels. The key is to build modern but look traditional.
"One memorable project was at Ackergill Tower, north of Wick. We converted this into an ultra exclusive retreat for an English couple who'd bought the building. They'd bought a shell of a house and wanted it brought back to life.
"They wanted to keep the feel of it but deliver as many en-suite bathrooms as possible. We delivered 17 bathrooms, which looked as if they'd always been there.
"There is a common theme to our work. Whether it's bars, shops, schools, we generally work on traditional, quirky buildings. The work is often complicated and there is a need to find a solution, whether it be to repair the building or find an economic use.
"Our clients are generally high net worth individuals. We don't do a lot of corporate work. We work with niche businesses – successful individuals but without corporate structures behind them.
"Another standout project was at Centotre restaurant in Edinburgh, now called Contini. This was around 2004/05. We advised a new-start business, a husband and wife. We told them it had to be on George Street due to the obvious potential.
"We did the design and project managed the conversion of the old bank hall. It's been hugely successful and is a brilliant showcase for us as it's just five minutes from our office so we can take clients there.
"Post-2008, people are much more cautious. Any money put in has to turn a profit. We're fairly frugal in the way we approach projects and always look at the minimum intervention we can do to make something work."
A more recent example of GLM's work comes in the form of the Inn at John O'Groats. They received an RIAS award in the tourism & leisure category and a RIAS special category award for best use of timber for their work, and the project has gone on to win a number of other accolades.
The hotel had been left to rot for 15 years and visitors to the world famous location had been left dismayed by the depressing scene.
GLM's brief was to dramatically restore, revitalise and relaunch the hotel as The Inn at John O'Groats.
Featuring a colourful timber clad extension, the inn offers 16 high-end holiday homes in differing sizes with framed views and stylish interiors. GLM has also been responsible for the construction of 23 luxury self-catering residences, a completely remodelled cafe and an activity centre and retail space.
Ian said, "The client engaged us early and we looked at potential development opportunities. 47% of the spend on the project was kept within Caithness, with over 90% in Scotland. This helped really good local contractors survive through tough times."
2015 is set to be a busy year for GLM. Their next major project involves the development of the leading ski resort at Cairngorm Mountain.
Meanwhile, Ian will take over the chairmanship of the RICS Board in Scotland, where one of his key goals will be to encourage more young people to consider a career in surveying and architecture. "There has been a real decline in people going into building surveying," Ian explained. "There is a massive demand for skilled surveyors and promoting this industry is something I'll be pushing hard in my term as chairman."