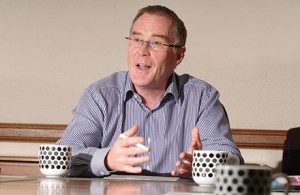 ROBERT Marshall left school at the age of 16 without so much as an O-level to his name.
Today he's Managing Director of Marshall Construction, one of the most progressive construction firms in Scotland with a turnover in excess of £40 million and a vast portfolio of work in sectors as diverse as healthcare and housing to education and retail.
The Alloa-based firm was founded by Robert's father (John Marshall OBE) in 1983 and has grown from a small contracting company to a major construction firm with divisions including plant, scaffolding and transport.
Robert explained, "I couldn't wait to leave school. It was always my ambition to come into the family business and I started at the bottom.
"I served my apprenticeship and learned about everything from engineering to the administration side of things.
"Academia isn't for everyone and it wasn't for me. Given a choice between going to university or starting an apprenticeship, I'd choose the apprenticeship.
"We have a very active apprentice scheme, with 12 apprentices at the moment. Construction is a brilliant career choice for young people because the scope is endless. Some of our previous apprentices have left and started their own businesses. Most of our managers are self-generated.
"As an industry, we lost a lot of good people during the recession. Apprenticeships are the way to fix this."
Robert, whose twin brother John owns Beatson Building Supplies, worked in various positions in the company until 2001, when he took over the ownership and running of the firm.
Since then, they have embarked on a massive expansion programme. However, the strong family values at the heart of their success are as relevant now as ever before.
Robert added, "We're very much family orientated. We have 300 direct employees and some of them have been with the company for over 30 years.
"We're a proud local firm. We've built the majority of the most prestigious developments in the Clackmannanshire area including iconic buildings like the local police station and schools. We did the renovation work at the swimming pool where I learned to swim.
"Some of our biggest contracts include a £9 million school in Larbert and a £10 million processing factory in Freuchie. We're now looking at the bigger value contracts but we're not out to chase turnover.
"The contracts we go for must be the right type. I've seen a lot of firms come and go. We decided against PFI work.
"Being non-aggressive is one reason why we came through the recession. Although our turnover took a hit, we managed to retain our workforce and are now in a good position to grow.
"We now go up against the national firms and we've been successful.
"We've always run without an overdraft."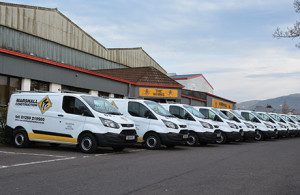 Robert is keen to emphasise the value of teamwork and one thing he'd like to change about the industry is the "them and us" culture which often exists between client and contractor. "Things are improving in this respect and we're starting to see more solidarity," Robert added. "We're getting involved at an earlier stage of projects, which is a big benefit.
"One of the things which helps us stand out is that, because we are multi-trade, we can take jobs through from conception to completion with our own staff."
People are at the heart of everything Marshall Construction do and it's clear they have invested time and resources to create a top class workforce.
"We were one of the first firms in Central Scotland to employ a health and safety manager," Robert said. "We also have a nurse who comes in and checks things like breathing and hearing of every employee once a year.
"We conduct random drink and drugs tests, with a zero tolerance policy on both. Health and safety is frowned upon a lot of the time but the last thing I want to do is chap someone's door to tell them that their loved one has died at work."
Robert is optimistic about the future for Marshall Construction, and for the industry generally.
"We're seeing green shoots," he noted. "We've certainly noticed a difference since the referendum. The uncertainty has gone.
"We're very proud of what we've built here.
"We've never walked away from a development without knowing that we can drive past it in the future knowing we did a good job."