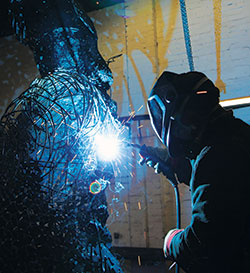 ONCE the industrial heartland of Scotland's steel production, Ravenscraig steelworks' cooling towers and gasholders silhouetted the skyline of the Motherwell area nicknamed Steelopolis. Following its closure in 1992, resulting in the loss of almost 1,000 jobs and a further 10,000 indirectly, demolition of the site created the largest brownfield site in Europe.
Now, with major developments underway to regenerate the area into a new town with modern homes, leisure, retail and commercial facilities and updated transport links, Scottish sculptor Andy Scott is busy working on a steel artwork to commemorate the men who lost their lives in the industry.
Renowned for major works including Heavy Horse and The Kelpies, Scott's handcrafted sculptures, often made entirely of steel, tower as shimmering landmarks in Scotland's landscape. His latest work, the Ravenscraig statue, is due to be unveiled onsite in the new town in the spring, and Scott didn't have to look far for inspiration.
"The inspiration was basically Ravenscraig itself; the steel industry", said Andy. "The chaps came to me, probably a couple of years ago now, and they had the idea and the motivation to create a memorial to the men who had lost their lives in the steel industry in Scotland. I had a meeting with them and said I would do it. They then embarked on a lengthy and problematic journey to try and raise the funds for it and it's now underway.
"One of the reasons I was so taken by the Ravenscraig commission was because essentially I'm recognised for using steel as a medium and there was something about the commission that was almost like a personal respect to the tradition of craftsmen and artisans that made the products."
Andy's work, which often ties a sense of regeneration and progress with an area's historical and social past, is always focused on what the sculptor terms 'the public arena'. Creating people based art for the public is very much at the forefront of the sculptor's concerns and whilst his artwork is largely designed for public enjoyment, pieces such as the Ravenscraig statue also celebrate the nation's industrial past.
"I hope that it [the statue] pays homage and that it will act as a symbol of remembrance or tribute to the industry and to the men involved and obviously those who lost their lives. The fact that Scotland, certainly central Scotland, wouldn't be what it is without that industrial past deserves recognition and credit. We wouldn't be where we are without it and without them and I think that deserves note."
Passionate about retaining the thread of handcrafted artisanship that runs throughout his sculptures, Andy has avoided modern modes of design and continues to scribble in sketchbooks, mould clay models and work through scales and dimensions in his head instead of using technical drawings.
Although this might make it difficult to delegate, Andy's work is thoroughly researched and designed, with each sculpture having its own story and significance behind it.
"Very rarely have I made pieces that don't have some direct resonance or relation to the social history or geography or other aspect of the environment in which they sit. The challenge is whether or not the public, the audience, actually pick up on my motivations. Often what happens is they'll make their own mythology about the pieces or their own reasonings for them being there, especially youngsters. They've got an uncluttered imagination and they come up with stories for sculptures that I could never have dreamt of that are much better than mine.
"I like to think of the pieces as being kind of layered with different layers of narrative and understanding. If the public pick up on it that's great, if they make their own stories that's even better, and if all they see, whizzing past at 70 miles per hour, is a lovely big horse then I've done my job anyway."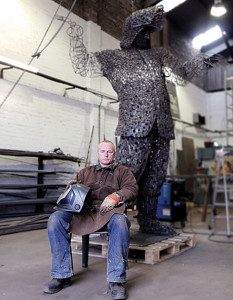 Not without criticism, Andy's sculptures have previously been dismissed as populist public artworks, lacking the integrity and critical respect that comes with more rarefied gallery works.
"I'm too old and cynical to be bothered by these things to be honest with you: I'm over it. I think there's room for all sort of artistic expression and there's a very wide cultural understanding in the country, which I think is to the benefit of all artists.
"There's often a bit of hype about tensions between different arts but I don't really give a damn. I really find the Americans enthusiasm for all art forms very liberating but in Britain there does seem to be that elitist overview: it's too popular, it's too successful – get a grip, you know.
"All I can say is I do my very best and I work hard. The Kelpies is an interesting example, the fact that a wee town like Falkirk could have nearly 800,000 visitors in less than a year to see one bit of art really speaks for itself. "
The son of a draughtsman, Andy graduated from the Glasgow School of Art in 1986 and believes the rich cultural heritage of the city's buildings and sculptures, his father's appreciation of the artistic and industrial environment around him, the art school and Charles Rennie Mackintosh has seeped into his blood and inspired his work's inherent celebration of the nation's past. Although Andy wants to raise awareness of Scotland's heritage, he recognises the dangers of romanticising history too much.
"It's a funny one because it's easy to go down the whole sort of kitschy nostalgia. It's too easy to go down that sombre nihilistic route. You've got to progress. You have to find that balance because you don't want to compromise the idea so much that it becomes either a pastiche, or worse than that, patronising or whimsical.
"In the Ravenscraig piece what I'm trying to do, obviously it's figurative, it's recognisable, is create it in such a way that it has some kind of contemporary or unusual touches to it. I think if I'd gone at this project with too much of an outlandish approach then my client team, the chaps from Ravenscraig, wouldn't have gone for it. I have to respect their viewpoints and what they're trying to achieve."
Working with his hands, using the same material as the men whose lives the Ravenscraig statue will commemorate, does the sculptor feel attached to the industry his art will commemorate?
"I guess in my fanciful notions maybe I do. But what I'm doing in here compared to what those fellas did, this is toy-town.
"I enjoy the physicality of the process, although it is very hard work. I enjoy taking a hard and difficult material and breathing life into it. And with the mosaic assembly technique that I've developed, playing with the way that light comes through the sculptures and you can vary the density of the steel and how you assemble it to create the volumes of the shapes you're building, there's a lot of skill involved. Because I'm so used to doing it I don't see the way other people see it. But I do enjoy it, it is my chosen medium and hopefully I've got a few more tricks up my sleeve."
The artist's largest and most famous work, The Kelpies, has been a triumph for public art. Describing himself as the 'frontman' of a 'vast legion of talented professionals' Andy is at pains to ensure the project is recognised as a team effort. Although the Ravenscraig sculpture might not be as vast in scale as The Kelpies, Andy hopes his work succeeds irrespective of size.
"What can art achieve? I hope it elevates the mundane; I hope it changes peoples' lives; I hope it creates a talking point; I hope it creates a sense of pride in the area that the sculptures inhabit. In some ways, I like to think it might illuminate the arts to a wider audience and might open peoples' minds to looking at other artworks. Who knows, it's in the eye of the beholder I suppose. I just do my best and hope people enjoy the results and get from it as much as they can."