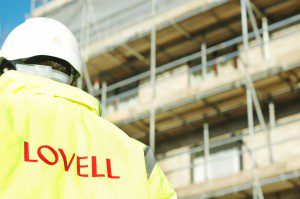 SOUTH Lanarkshire Council has appointed Glasgow-based affordable housing developer, Lovell, to build a £2.6 million development of 22 environmentally-friendly new council homes in East Kilbride.
Lovell is set to start work shortly on the construction of the new homes on the former site of Canberra Primary School.  In 2012, the school moved into a brand-new building next to its former location.
The new housing development forms part of South Lanarkshire Council's new-build housing programme and will help with meeting the need for new high-quality affordable homes for social rent in East Kilbride.  The Belmont Drive scheme will create a mix of two and three-bedroom houses, one-bedroom bungalows and two-bedroom cottage flats.
All 22 homes will be extremely energy-efficient – meaning lower fuel costs for residents – and will achieve the Building Standards Sustainability Level of Silver through the use of renewable and green technology, including photovoltaic solar panels.
Ann Gee, the Council's executive director of Housing and Technical Resources, said, "With the need for social housing being high across South Lanarkshire, the Council has committed to delivering a new-build programme of over 500 new Council houses by 2020.  As part of this plan, the development will help meet the housing need in East Kilbride area, where there is a high level of demand for new homes. As with the new Canberra Primary School, the Council has specified very high-quality, energy-efficient homes."
Lovell regional director, Alan Taylor, added, "Our team is excited to be working with South Lanarkshire Council on the development at Belmont Drive which will create a range of superb new homes, all built to a very high standard in terms of their design, construction and energy efficiency."
Lovell was chosen for the scheme – the company's first new-build housing development in the South Lanarkshire area – through a competitive tendering process. The company has previously carried out a successful large-scale housing refurbishment project for South Lanarkshire Council delivering extensive improvements to five blocks of flats at Greenhill Court, Rutherglen.