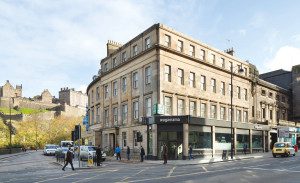 COMMERCIAL property developers and investors, Knight Property Group has purchased buildings on two of Edinburgh's most iconic streets, totalling a £9 million investment.
One and Two Castle Terrace, at Exchange Financial District, and 110 George Street, a Georgian townhouse, of 11,000 sq ft and 7,000 sq ft respectively will both undergo a refurbishment once the leases expire  and will be offered to the market for lease in whole and part. The two properties are B listed, and span over four to five floors and will give the option for single or multi occupancy once the refurbishments are complete.
Howard Crawshaw, director at Knight Property Group, said, "These are two key purchases for Knight Property Group and add to our portfolio out with the north east of Scotland, and we have plans to heavily invest in the central belt in the next few years. Both properties have a mix of income and some re-letting opportunities and are located in prime thoroughfares. With the prestigious location of the properties and the opportunity for refurbishment, we are confident we can create space that will fit the needs of the occupier market.
"Working on the art deco Capitol Theatre in Aberdeen has given us valuable experience in restoring historic properties. We have invested £30 million in restoring the listed building which will create 74,000 sq ft of office space and our involvement in the project will act as an invaluable resource during these developments."
The acquisitions will add to the existing portfolio of properties which Knight holds in Glasgow and Edinburgh.