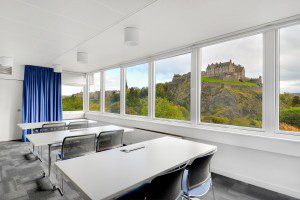 A project led by JLL's Building Consultancy team is one of the first in Scotland to achieve the prestigious Ska 'Gold' Rating for sustainable fit out.
JLL was tasked with the fit out of the new headquarters for RICS in Scotland – the professional body for Chartered Surveyors.
The brief called to develop a high quality, flexible and modern working space at RICS' new 6,000 sq. ft. home at 125 Princes Street in Edinburgh.
An expert team was managed by JLL and focused on key aspects of workspace design – improving air quality, acoustics, thermal comfort, daylighting and lighting – all of which have been shown to boost employee productivity.
Niall Robertson, director, JLL, said, "We are proud to have led this 'Gold' Ska project delivering a comfortable and productive environment for staff, RICS Members and other users. We created lecture theatres capable of housing 100 people, a members' lounge and office space which maximises natural daylight, making the most of stunning views over Edinburgh Castle.
"The fit out was completed within six weeks using sustainably sourced materials combined with energy efficient lighting, heating and ventilation systems. We achieved a 98% diversion of waste from landfill and an 85% reduction in carbon footprint during construction."
Furniture from RICS' previous headquarters at Manor Place was donated for re-use by start-up businesses.
Sarah Speirs, director, RICS in Scotland, said, "Our new space is truly transformational and creates a really inspiring workspace which is comfortable and easy to maintain."
Ska Rating is an environmental assessment tool for sustainable fit outs and is operated by RICS.