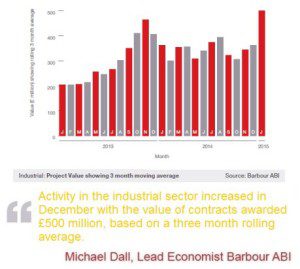 NEW figures that the industrial construction sector in January increased its total value of contracts by over 38 per cent compared to December, with a number of major projects announced across the month.
The data shows industrial construction in January 2015 rose above the £500 million barrier based on a three month rolling average, compared to £362 million recorded in the January 2014. This is an encouraging sign for a sector that has already performed relatively well over the last 12 months having had a 26% increase for year on year growth in 2014.
The latest figures from Barbour ABI, which supplies construction data to the Office for National Statistics (ONS), Cabinet Office and Treasury, also revealed the North West was the region with the highest value of industrial activity in January, contributing to 36 per cent of the contracts awarded. This was helped by two major contracts awarded; a £156 million Parcel Force distribution centre in Chorley and a £150 million storage facility at Sellafield.
Commenting on the findings from the latest Economic Construction Market Review, Michael Dall, lead economist at Barbour ABI, said, "In the three months to January the total value of contracts for industrial construction was £1.2 billion, almost 18% higher than the previous three months. Whilst a large portion of the value is from the two major North West contracts, it is nevertheless encouraging with the sector likely to expand as we move further into 2015."
"The total value of industrial projects reaching the advanced planning stage in 2014 was £6.4 billion, an increase of over 50% on 2013, indicating a bright future for the sector."
Other findings from the January Economic Construction Market Review summary include:
The total value of new UK construction contracts awarded in January was £5.5 billion based on a three-month rolling average – 4.0 per cent up on December but a 0.8 per cent decrease on the value recorded in January 2014
The number of construction projects within the UK in January was up 38 per cent from December but this increase should be viewed cautiously as December is traditionally a slower month. In context, January 2015 saw a 8.1 per cent drop versus January 2014