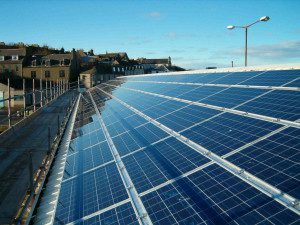 SCOTLAND'S growing renewable energy industry will open its doors to professional services firms at a conference to be held in Edinburgh in March.
Lawyers, accountants, chartered surveyors, property managers, architects, auditors, management consultants and more will find Scottish Renewables' Introduction to Renewables Conference an unmissable introduction to the industry.
The event, being held as part of the organisation's 800-delegate Annual Conference, will analyse the industry's current state before looking at the future prospects for renewables. How to progress in both established and under-developed sectors such as heat, energy from waste, offshore wind and transport, as well as emerging technologies of wave, tidal stream and storage, will be key topics under discussion.
Although the appetite for development remains strong, established technologies like onshore wind, solar and hydro all face funding uncertainty.
Jenny Hogan, Director of Policy at Scottish Renewables, said, "The Introduction to Renewables Conference aims to arm those who are either new to the industry or to a particular sector, and who want to find out more about getting involved, with the facts they'll need.
"The series of sessions are designed to help delegates make the most of the impressive range of opportunities available in renewables, one of Scotland's proudest success stories."
The Introduction to Renewables Conference will see Scottish Renewables' six-strong policy team joined by seasoned project developers and installers to break down their specialist technology areas and discuss the potential future development – and the barriers to growth – of various renewable energy technologies.
Director of Policy, Jenny Hogan, added, "Renewables employ more than 11,000 people in Scotland, and the industry is worth more than £1bn annually – but it's a competitive space. This is a rare chance to get an insight from the experts and understand how your business could get involved in the sector."
Scottish Renewables' Introduction to Renewables Conference will be held on March 24 at the EICC in Edinburgh.