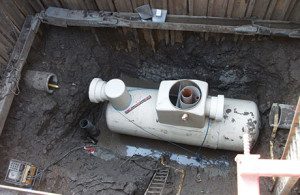 LANES Group has completed its biggest ever excavation project in Scotland with the installation of two large interceptor tanks just one metre from one of the country's largest maternity units.
In the £160,000 15-week project, the Lanes Glasgow depot installed the tanks at University Hospital Crosshouse, Kilmarnock, on a site next to the new Ayrshire Maternity Unit.
It involved the removal of more than 4,500 tonnes of soil, creating a hole large enough to hold a three storey house – a task achieved without attracting a single complaint from mothers and midwives in the maternity unit.
The success of the project demonstrates Lanes Group's ability to deliver major specialised drainage excavations.
The group, the UK's largest independent supplier of wastewater, utility and underground pipeline services, was commissioned by DMP Engineers, on behalf of NHS Ayrshire & Arran. Steven Fairbairn, Regional Manager for Lanes Group in Glasgow, said, "The Lanes Glasgow operation has the largest civils team of any drainage company in Scotland.
"Even so, this was the largest excavation we've completed. It shows have we can bring together civil engineering and drainage expertise in a way that creates a seamless and cost-effective service for these larger projects."
The project involved the installation of two underground Klargester bypass separator tanks, one seven metres and the other five metres in length, that collect surface water from the hospital's car parks.
The tanks incorporate a fuel interceptor and other filters that clean the water, allowing it to be discharged into the surface water course.
About 40 metres of pipework also had to be diverted, along with a gas main and mainline electricity cable, to accommodate the tanks.
An excavation 10 metres deep, seven metres wide and more than 12 metres long had to be dug.
Steven Fairbairn added, "Despite the scale of the task, we did not receive a single complaint from anyone on the site, including the maternity hospital, which was just inches away.
"Working on hospital sites is always more complex, with additional risks, due to the dense network of specialist utility services, which are often not well recorded because of the disjointed way services can be developed over time.
"We were mindful of our location and very aware of the need to leave free access within the hospital complex for vehicles and pedestrians, and to maintain strict environmental control throughout the duration of the contract.
"Our site and traffic management plan was designed to reduce, pollution, in terms of both noise and emissions, to an absolute minimum, for example by using eco-friendly, super-silent plant."