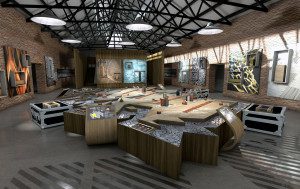 FUTURE generations of Scottish construction workers are set to benefit from Historic Scotland's latest initiative, The Engine Shed.
Designed to inspire, educate and train the next generation of skilled apprentices in traditional building methods and materials, the creative hub will also inform building owners how to understand and conserve the historic environment around them.
With a current shortage of 5,000 traditionally skilled workers in Scotland and 450,000 traditionally constructed buildings to maintain, Historic Scotland hope The Engine Shed will help to address the issues currently stifling the Scottish Construction industry.
Having secured the necessary funding, work on the currently derelict building – purchased by Historic Scotland for £1 – is due to begin in April.
Located in Forthside, Stirling, the venue will provide a focal point for construction industry professionals and trades people, the local community and younger generations interested in building conservation and looking for inspiration and a hands-on introduction to the industry. David Mitchell, Director of Conservation for Historic Scotland, said, "With The Engine Shed we want to raise standards, and that's standards of specification, understanding and standards of execution. The sector has been crying out for something like this.
"Somebody said to me last year: 'We probably didn't have the vision to aim for something like this but it's what's needed,' and I think that's really true.
"What I think's really important is that this doesn't belong to Historic Scotland. We're just custodians of it and provide a stage.
"You've got a least half a million traditionally constructed buildings in Scotland, tourists come to Scotland and a big chunk of our economy is made up of the historic environment.
"A billion pounds a year is spent on traditional buildings; it's not a small industry.
"This is an economic asset for the future. You wouldn't let anybody trash Loch Lomond, why would you be any different with these buildings?"