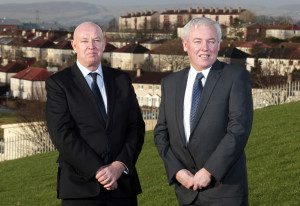 AREA sales manager Rod Glen has joined lightweight steel roofing firm Metrotile UK, with the aim of helping to continue the firm's 30 per cent growth from 2014 into 2015.
More than half of Metrotile UK's growth last year, 18.3 per cent in all, came in Scotland, Northern Ireland and the north of England, under the eye of Glasgow-based regional director Mark Kelly.
Mr Kelly's performance contributed to sales of 1.16 million tiles nationally by the end of last year, with record turnover figures of £7.1 million with forecasted net profits of £679,000.
Scotland is targeted as an area of major continued expansion and Stirling-based Rod Glen will manage the company's sales throughout the country.
It promises to be a busy year for the married father-of-three, as he has just started writing his first book – a crime novel set in the east end of Glasgow.
Before working in specification sales for more than 20 years, Mr Glen was previously a tradesman in Canada and South Africa, having served an apprenticeship in the Clyde Shipyards.
"I'm looking forward to my new role," he said, "and I feel very excited and very positive about it. I've been charged with setting up CPDs for architects, helping them learn about new products in the industry.
"Metrotile is expanding greatly at the moment and what we want to do is really raise awareness of our lightweight steel products as an alternative to clay tiles. We want to be someone architects can turn to for information and to ask questions."
Metrotile UK provides a variety of tiles for commercial and domestic premises. Notable projects include 3,000sqm of roofing materials for stable blocks and chalets at the Ingliston Equestrian Centre near Glasgow, as well as the Fair Isle Bird Observatory.
Mr Kelly said the benefits of lightweight steel tiles for a variety of users, from local authorities and housing associations, to factory builders and roofing contractors, include added safety in the construction process, as well as sustainability benefits, speed of fixing and reduced whole life costs.