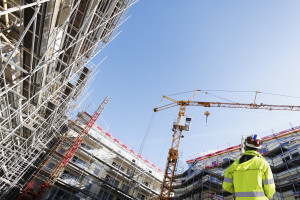 CONSTRUCTION output is forecast to increase 5.3% in 2015 and 17.8% by 2018 according to the latest forecasts from the Construction Products Association.
However, growth is expected to slow in the medium-term due to election uncertainty and capacity constraints.
Key highlights from the forecasts include:
Private house building forecast to rise 10.0% in 2015 and 20.2% by 2018
Commercial offices construction expected to increase 8.0% in 2015 and 25.0% by 2018
Infrastructure activity forecast to rise 7.9% in 2015 and 51.5% by 2018
Dr Noble Francis, Economics Director of the Association, commented,  "Last year's recovery in construction was driven primarily by 18.0% growth in private house building.  This year, industry growth will be more broad-based as further a further increase of 10.0% in private house building is expected to be supported by 8.0% growth in commercial offices and 7.9% growth in new infrastructure.
"Growth rates across most of the industry are expected to slow in 2016 and 2017 because of uncertainty regarding the General Election in May, which could give pause to both contract awards and industry investment.  Whilst this is unlikely to impact construction activity this year, due to the lag between contracts and activity on the ground, it may have an adverse effect on output in both 2016 and 2017."
Dr Francis continued:  "Private house building growth is expected to slow from 10.0% this year to 5.0% in 2016 and 3.0% in 2017.  In addition, activity in the commercial offices sector, which is still 39.5% below the pre-recession peak, is forecast to grow 7.0% in 2016 and 5.0% in 2017.  Growth in total construction output, therefore, is expected to slow to 4.2% in 2015 and 3.4% in 2016.
"The industry also has concerns regarding capacity constraints in the medium-term.  Whilst output in the sector during 2014 was 8.5% below the level seen in 2007, overall capacity last year was not a key issue.  However, construction output is forecast to surpass the pre-recession peak during the next 18 months, this despite the industry having lost 343,000 jobs and considerable materials capacity in the seven years following the financial crisis.  As a result, it is essential that there is significant investment in UK construction skills and manufacturing over the next few years if the growth forecast is to be achieved."