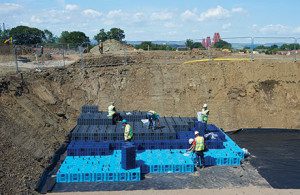 BUILT on the south shore of the Firth of Forth, a new 450-home development in South Queensferry required an underground drainage system that would address surface water run-off and alleviate flood risk.
A combination of more than 6,000 AquaCell geocellular stormwater management units from Wavin proved the ideal solution.
Designed by EMA Architects, the joint venture development between Cala and Barratt Homes will feature three, four and five-bedroom detached homes, townhouses and two and three-bedroom apartments on the 35 acre site.
Following recommendations from civil engineers Halcrow Group Ltd, groundworks contractor Mulholland Contracts installed a series of attenuation tanks for three areas of the development to reduce the risk of flooding.
"Apart from boundary areas which are lined by trees and plants, it's a predominantly hard landscaped site," said David Rough, Wavin Area Sales Manager. "With numerous areas for car parking and road structures – including a key turning point for local buses – the AquaCell range of systems offered the perfect combination of performance, versatility and heavy loading capabilities."
In the centre of the development, over 3,500 AquaCell stormwater management units have been installed beneath the main bus turning point. Manufactured from specially reformulated, recycled material for trafficked and deep applications, over 2,100 AquaCell Prime units were specified to create the middle three layers of a 19m x 19m x 2.0m cellular unit soakaway.
To complete the tank, Wavin supplied over 700 AquaCell Plus for the bottom layer and over 700 units of AquaCell Eco for the top layer.  Ideal for areas subject to regular and heavy traffic loading, AquaCell Core provided the required strength while a layer of AquaCell Plus was specified for its inherent suitability for installations where extra depth is required.
Installed at a depth of 4.48 metres, the tank was then backfilled with aggregate to 100mm above the units.
As part of the comprehensive drainage specification, two additional AquaCell attenuation tanks were installed at comprising 1,800 and 918 AquaCell stormwater management units respectively.
All AquaCell units have proven lateral and vertical loading performances and provide an effective answer to managing excessive rainfall.
Quickly assembled on site, the individual units can simply be clipped together or for additional strength can be laid in a 'brick bonded' formation for enhanced stability to form the required volume. Once in place, the units are then wrapped in either a geotextile sheet or geomembrane depending on the type of installation required.
With the 450 home development set for completion in 2014, Wavin's AquaCell range of systems will ensure that the new residents will benefit from a proven stormwater solution that delivers effective flood protection in both the short and long term.