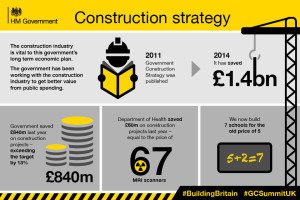 THE UK Government have recently released their latest update of the £127 billion construction pipeline, rising in value by 10 per cent over the last six months, according to the latest official figures.
The pipeline, which can be found here, is provided by construction intelligence specialists Barbour ABI and is designed to help businesses prepare for planned government-spending streams. Projects on the list include HS2, an £11 billion nuclear waste management facility and over £12 billion on education construction across the UK.
Simon Mahoney, Managing Director of Barbour ABI said, "The Government is construction's single largest client, providing over 40% of annual spend in the UK, therefore it's imperative that this publicly funded money is accessible and outlined clearly, allowing businesses to plan around the many thousands of projects within the construction pipeline.
Francis Maude, Minister for the Cabinet Office who published the data, commented, "As part of this Government's long term economic plan we are publishing pipelines of future spending to help businesses across the country plan for and win contracts with government. We are providing businesses with exactly what they are asking for – up-to-date information in one central place about future government opportunities. This is helping British businesses to grow and innovate, and providing maximum value for taxpayers."