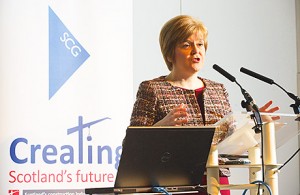 A £30 million scheme to open doors for people to buy new homes from small and medium sized housebuilders has been launched.
The Scottish Government's Help to Buy (Scotland) Small Developers scheme will spread support more widely across the housebuilding industry by helping buyers who want a new property built by one of around 170 smaller developers.
Under Help to Buy (Scotland), the Scottish Government takes an equity stake of between 10% and 20% of the value of the property which can be repaid at any time. 4,100 homes have been bought through Help To Buy (Scotland) in the last 15 months. The additional £30 million in 2015-16, on top of the original £100 million, will help a further 750 homebuyers. Housebuilders have to register with the scheme – currently around 170 are classed as small builders and 20 are defined as large builders.
During a visit to a new development in Leven, Fife, under construction by Campion Homes, First Minister Nicola Sturgeon said, "The Scottish Government is supporting the housebuilding industry and Help to Buy (Scotland) is one of the creative ways we are stimulating new development, opening up the market to thousands of house buyers. Over 4,100 homes have been bought in the last 15 months, many from larger builders, with smaller and medium-sized developers seeing a smaller share of sales. So this new support of £30 million will be ringfenced to support purchases from 170 smaller building companies that develop thousands of quality homes across the country. These are often in remote locations and keep much needed jobs and skills in rural areas, while having a positive knock on impact on the wider economy."
Pete Bell, Chairman and Managing Director of Campion Homes said, "Today's announcement of a scheme specifically for small and medium sized developers is a welcome recognition of the important role that we play in the continuing growth of Scotland's house-building industry. The ringfencing of the funds gives small and medium sized developers the confidence to progress developments which will be available for buyers taking up the Help to Buy (Scotland) Small Developers scheme. I am particularly pleased that the scheme is now restricted to houses costing a maximum of £250,000 as this will allow more first time buyers to get on the property owning ladder."
Philip Hogg, Chief Executive of industry body Homes for Scotland which helped shape the new scheme in order to deliver maximum impact and benefit, added, "The Help to Buy (Scotland) scheme has been hugely successful, with proven demand demonstrating the aspiration of thousands of Scots to own their own home. The additional funding announced today is therefore warmly welcomed and we continue to work closely with the Scottish Government to help address the challenges associated with planning and accessing development finance which also particularly impact smaller builders."