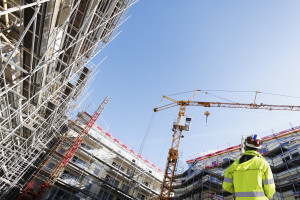 CONSTRUCTION output for November increased by 3.6% compared to the same time the previous year, according to the latest Office for National Statistics (ONS) figures.
However, this news was tempered by the news there was a 2% dip in output compared with October. Both all new work, and repair and maintenance contributed to the fall.
Compared with November 2013, there were increases in both all new work and repair and maintenance of 5.7% and 0.1% respectively. Within all new work there were increases in new housing (21.9%) and private industrial (8.8%), with other work types reporting decreases.
Longer-term growth was confirmed when comparing the three months, September 2014 to November 2014 with the same three months a year previously. Over this period, the components of all work; new work and repair and maintenance, increased by 4.6% and 2.5% respectively.
Allan Callaghan, Managing Director of Cruden Building & Renewals, said, "The long term picture of steady year on year growth shown in today's report throughout the construction industry mirrors Cruden's buoyant performance, with notable successes in the number of construction tenders won on price and quality, creating affordable housing in Scotland.
"Every industry faces its challenges however, and the growing skills gap within this sector needs to be plugged.  Whilst Cruden has a strong pipeline of approximately 50 modern apprentices employed at any one time, we plan to grow this figure this year by 30 percent to help tackle this issue. With a healthy order book, upturn in the housing market and growing staff numbers, Cruden looks forward to a successful 2015 in an industry that's on a strong road to recovery."
Managing director of Kier Construction's Scotland & north-east England business, Brian McQuade, said that the statistics in the ONS Output in the Construction Industry report confirm steady growth in the Scottish construction sector. He added, "2015 is shaping up to look strong for the Kier Group and the construction industry as a whole.  Last year we increased our turnover by 51% on the previous year and all the signs point to another year of growth.
"A substantial proportion of Kier Construction's workload is coming from both UK and Scottish Government supported projects and we have secured positions on major frameworks in our target market sectors of health, defence and education.  This has only further cemented our very strong order book.
"Today's ONS report points towards an optimistic year ahead and this is in step with what we are witnessing.  We have recently recruited more employees to meet growing demand, we have a robust pipeline of work  for 2015 and a number of exciting new projects on the horizon."